Group Classes from Dharma Dog Training- nip puppy problems in the bud before they grow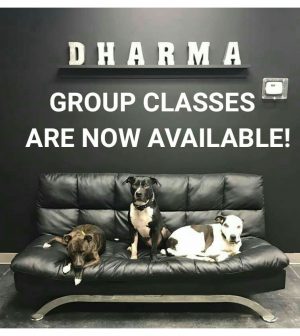 If you're puppy or young dog is in need of a little help with behavior and need the right setting from the right trainers, group classes from Dharma Dog Training may be the right answer. 
Currently, Dharma has an amazing program that includes completion of its entire On Leash Essentials Program (4 weeks), plus training equipment included for PUPPIES (Dogs under 6 months) and BASICS (Dogs over 6 months). 
Kelley McAtee of Dharma trains with proven results and the company's life-changing dog training programs have left many rave reviews here.  "We feel it's so important that we reach the young puppies and/or dogs with less serious issues before they escalate into really serious ones," McAtee said. 
If you'd like pets to listen to you on and off leash, behave properly around guests, interact appropriately with other dogs, walk politely with you on leash, make you proud in public, and add calm and peace to your home, look no further. You'll learn to advocate for your dog and give commands, they'll learn to respond correctly and walk nicely on a leash, and so much more.
Classes are held in Dharma's new Omaha facility (6221 S. 90th St) and pricing and schedules can be found here.
The Best of Omaha Award-winning company looks forward to hearing from you. You can reach Dharma by visiting the above links. Also, find Dharma on Facebook here and subscribe to its newsletters for current and upcoming program information.