Help the Nebraska Humane Society do its extraordinary heroics, plus the ordinary/necessary stuff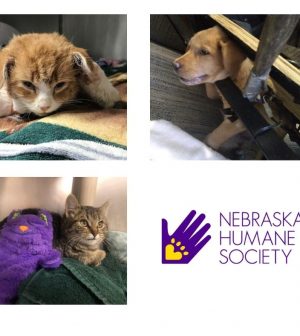 Recently, we reminded folks that the registration for 2022 is due soon for pets. Pay the fee, stay legal, and make sure your animal is returned to you should it ever find its way to animal control or the shelter at the Nebraska Humane Society.
We also mentioned that registration fees are a huge part of the annual budget, so paying the fee to license pets is instrumental to the shelter and the work it does every day.
And speaking of the work it does, not all of the budget is for extraordinary things. The shelter has to keep the lights on, pay for gas in the vehicles, etc., so that's that.
There are, however, the sexier stories that we love to highlight. These are the ones that make the choice to contribute to the shelter a little easier for folks. Check out a couple of the heartstring-tugging stories that the shelter has highlighted lately in its Facebook feed recently, just below.
Eeyore was recently found in a trash can. After making it to the shelter, it was determined that many sensitive areas were too damaged from frostbite to keep, so surgeries followed. Eeyore has lost both ears, but he's still very loving and has already found a forever home!
Puppies are curious and tend to make mischief. When they do, and it becomes a little too much, NHS responds. Officer Santos-Castaneda from the shelter had to get clever to rescue the puppy seen below- from a recliner. Yes, you read that right. The poor pup had their airways obstructed after getting their head caught under a recliner and, after being freed, wasn't breathing. Officer Santos-Castaneda used ice to spring the puppy back to life. After about 10 minutes in shock, the pup came around and started walking again!
A hungry citizen heard meowing while waiting in a McDonald's drive-thru. They drove straight to NHS so staff could inspect the car. "Meow, meow, meow" isn't the normal sound of an engine, so they were pretty sure there was a cat in there. After about 45 minutes of luring and trying to get the poor, elusive cat out, they were successful! The McKitty is now safe and sound at the shelter.
These stories are not uncommon, but they are spectacular examples of the kind of care animals get at Nebraska's largest shelter. Cats, dogs, and critters of all kinds need help, and the shelter is the best place for them to find it often times. If you love these stories and want to help, donate to the Nebraska Humane Society by clicking here.