Helping People And Pets Find Homes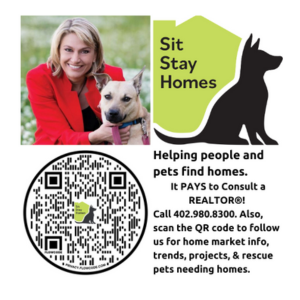 Sit Stay Homes is a new Omaha real estate brokerage started by top producing REALTOR® Cindy Andrew. "Home sales and rescuing animals are my passions so I combined the two with my logo and created two separate entities… a real estate brokerage and a non-profit pet rescue." says Cindy. "Every transaction that goes through the brokerage, I donate to a charity of my client's choice, pet related or non-pet related."
Sit Stay Homes is also a strong supporter of the military. Two of the agents have late husbands who proudly served and one agent has a husband who is retired Air Force. All brokerage members have family who have served or are currently serving in all branches, Army, Navy, Air Force, and Marines. Sit Stay Homes participates and sponsors several Offutt Airforce Base activities for military families. We also provide care packages to soldiers who are deployed.
Several agents and support staff are very active with their local church families. They donate their time and resources to help those who are struggling with life's challenges.
REALTORS® sell everything from acreages to condos. They also sell commercial buildings and lease space. Cindy is a landlord, property manager, and former appraiser. She continues to rescue dogs and cats who can often be found watching her work at the office. The non-profit rescue is called Omaha Pet Rescue.
Sit Stay Homes is proud to have so many 5 star reviews. Our clients are not just involved in a transaction with us, they become our life-long friends.
Thanks to Sit Stay Homes for sponsoring this post!