How to honor lost NHS Ambassador's life, get support when you need it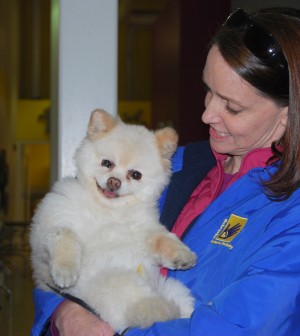 It saddens us to hear that Baxter (or "Bax" or "B-Man, or "B"), an ambassador to the Nebraska Humane Society, has crossed the Rainbow Bridge. It was on Facebook that the NHS said yesterday, "Our dear friend and shelter ambassador Baxter has gone over the Rainbow Bridge. If you had the pleasure of meeting B over the years, you know that he is the perfect example of what we try to do every day – give a second chance to an animal in need. He was a miracle and we'll miss him so, so very much."
We at Pets in Omaha were always glad when Baxter's mom, Pam Wiese, brought him to our events. Most recently, he came to our Shelter Aid Donation Day in October of 2016. We also realize today is probably a rough time for the NHS family and especially Pam, so our deepest sympathies go out to everyone.
If you don't know Baxter's story, click here to read it. 
We also know that Baxter and dogs like him wouldn't be able to live the lives they do without the shelter. Tens of thousands of animals enter the shelter every year. After Baxter's passing, we'd like to remind you that the Nebraska Humane Society is a non-profit organization, cares for those thousands of animals each day, is charged with handling animal control in the City and surrounding areas, and is one of the nation's top shelters. If there ever was a time to donate, doing so today in Baxter's honor would be it.
Click here to help the Humane Society. 
One more thing comes to mind as we reflect on our experience with Baxter, Pam, and others in our animal community. The loss of a pet is very difficult. Luckily, there are resources at the Nebraska Humane Society and elsewhere for you to utilize. Whether you want one-on-one help from places like Paws to Angels or want to meet in a support group held at the Nebraska Humane Society, there are many places to find support for your loss.
Find support groups at the NHS here and see all of our End of Life Care articles on this Pets in Omaha page.