How the Vet Takes Care of Your Pet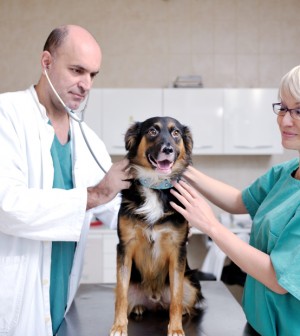 Your veterinarian plays an essential role in the health and well-being of your beloved companion animal. During your dog or cat's life, the vet becomes a lifelong friend who always does what is in your pet's best interests.
Your vet protects your pet and you from zoonotic diseases and vaccinates them according to the law. Vets practice preventative care that includes a yearly physical and complete examination. You should trust your vet's advice concerning your pet and keep them apprised of their daily lives.
Vets are wise and invaluable professionals who love animals and know how to keep them in good health. Read along, and you will learn more about vets and how they can help your pet live a long, healthy life.
How the Vet Takes Care of Your Pet
Vets work with your pet to heal them and educate you, the pet parent, about the best way to care for your animal. Pets need the vet to be their doctor and their best friend to help them thrive and prevent or recover from illness. The following include some ways your vet takes care of your pet:
Protection from Disease
Your veterinarian's care is the best defense your pet has against diseases. Vaccination is a huge part of protecting your pet as well as you. According to American Humane.org, the vaccinations your vet gives your pet helps protect them from contagious diseases.
Core vaccines for dogs:
Rabies
Distemper
Parvovirus
Parainfluenza virus
Core vaccines for cats:
Rabies
Feline Calicivirus
Feline Herpesvirus
Feline Panleukopenia
Your vet is the one who will educate you about these diseases and why these vaccines are mandatory for your pet. Vets also prevent and treat parasites that can spread to other people or pets. The goal is for everyone to stay safe, pets and animals. Vets help us all stay safe.
Preventative Care
Vets help with preventive care by having your pet come in for a routine visit for a complete wellness exam. With a thorough examination, your vet discovers and shares news about your dog or cat's health, and bloodwork is a part of that. Some other things your vet will do:
Listen to your pet's heart and lungs
Check your pet's weight, stance, and gait
Check your pet's eyes for signs of abnormalities
Examine the condition of your pet's teeth (check for dental disease)
The intent of these tests is to detect any health problems that may exist. These tests reveal much about how your precious pooch or furry feline feels physically. A stool specimen from your pet will be requested to check for worms.
Help Manage Illness
Chronic illnesses can be challenging to manage, but it is a lot easier with your vet's help. Your vet can help treat your pet and prescribe the necessary medications to keep your pet healthy and comfortable. Some examples of chronic conditions that your vet can help you monitor:
Arthritis
Diabetes
Allergies
Heart disorders
Sometimes long-term management of chronic illness in pets can be overwhelming for pet parents, which is where your vet comes in to help. With their guidance, your pet will continue to thrive for many years with the needed treatment. Your vet is your pet's greatest champion next to you.
Performing Surgeries
One of the significant decisions you can render as a pet parent is to spay or neuter your dog or cat. This procedure is one example of a major surgical procedure your vet can perform. Dental extractions may also be performed in cases of severe dental disease. Injuries must also be treated accordingly, and sometimes surgery is necessary. Your vet is there to assist your pet with recovery from these procedures.
Offer Advice About Your Pet's Daily Life
Veterinarians are trained in every area of animal health, from pet nutrition to how much exercise your canine or feline needs to stay healthy. Your vet can help determine the best diet for your pet. When you want to understand how to handle a particular situation, such as removing a tick from your adventurous dog or how to give a pill pocket to your stubborn cat, your vet is there to help you. They have the training and understanding to be able to answer your questions.
Help with Medications
Your veterinarian can diagnose and treat issues in your pet, such as separation anxiety or if they are fearful or aggressive. Medications like Prozac, Neurontin, or Clomipramine can help treat an anxious dog or cat. Sometimes benzodiazepine medications are used to treat fear or aggression in pets. Your vet knows how to manage these medications best and will be able to adjust them accordingly.
Inform You of the Latest "Trends" in Pet Care
Many pet parents choose not to medicate their pets, but they still want to help them with any issues they may have. For example, many pets suffering from separation anxiety can benefit from a ThunderShirt, which they have for dogs and cats. Your vet can also give you good advice about supplements, and they will often have items, such as chews for improved joint health, right there in the office.
Conclusion
Your vet is your pet's best friend and helper throughout their life. They help protect your pet's health and prevent diseases that affect pets and humans. Your vet knows your pet and treats them like family. When the time comes for your sweet baby to cross the rainbow bridge, your vet is right there with you to hold their paw and comfort them. Vets are special people who genuinely care for our animals.