How to Fly or Road-Trip with Your Pet During the Summer Vacation Season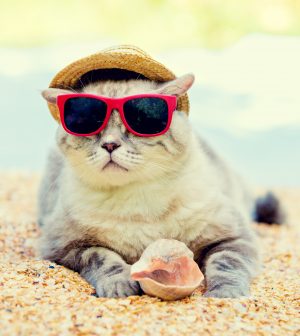 The summer season of travel is quickly approaching, so let's get you ready to rove with your pet! Before you hit the road or fly the skies, reference this article for fun, stress-free traveling tips.
These tips are all specific to continental pet travel. Traveling internationally with a pet is a whole different animal.
TRAVEL PREP
Visit your veterinarian for a pet check-up to ensure your companion is healthy and fit for travel.
If traveling by airplane, you must also request a pet health certificate from your vet. This certificate ensures your pet has all its required vaccinations, etc.
Gather your pet's health records to keep with you on your travels if you need to share your pet's health history with another vet.
Identify emergency or 24-hour veterinarian locations in the area you'll be staying. Trying to find an emergency vet when you are far away from home with a sick pet can be a panic-inducing situation, so be prepared.
The worst place to lose a pet is away from home, so ensure they have all their proper identification tags. If their ID tags only have your address, include a tag with your cell phone number. The best bet for finding a lost pet is always an identifying microchip.
PACKING THEIR BAGS
Your cats and dogs need luggage, too, so pack a bag, especially for them, and stash it in an easy-to-reach spot. Always include MORE food and MORE medication than you might need because you never know when you'll be delayed.
Other essential items include:
First-aid kit (bandages, tweezers, etc.)
CBD treats or appropriately prescribed tranquilizers
Leashes
Poop-scoopers and baggies
Food, food bowls, and water bowls
Toys such as balls, frisbees, or your feline's favorite furry mouse.
Identify pet-friendly lodgings along your route or at your destination. For the best insurance, identify other pet-friendly places in case your plans change while traveling or an issue arises with your reservations.
FLYING WITH PETS
It wasn't until I saw a photo of our friends' Shichon's snuggled in open carriers that I knew small animals could tag along in the plane's cabin. Larger animals are required to go in the cargo hold.
Before you fly the skies with your pet, remember:
only pets of a specific size can fly in the cabin, so check with the airline first to find out their policies.
to check with the airlines about the documentation required for your pet to fly. Most airlines require a health certificate, issued and signed by your vet, 10 to 14 days before your flight.
to research and choose the best crate for your animal's size, and prep it correctly with a familiar blanket or shirt, and a sign that says "live animal."
to feed your pet a light meal a few hours before traveling so they don't suffer an upset tummy from stress or motion sickness. Pets in cargo holds are often provided water in the form of an ice block.
You'll want to keep your pet calm. While sedation for pets is not often recommended for traveling, you should always check with your pet's vet first for ideas to soothe an anxious dog or cat.
Traveling by plane requires a lot of legwork, so make a to-do list and check it twice.
ROAD TRIPS WITH PETS
I've only road-tripped with animals once, when my best friend and I drove from Omaha to Seattle with two neurotic cats. It was definitely an adventure and a memorable trip. But we made sure to be very prepared with prescribed tranquilizers (this was before the days of ubiquitous CBD treats), litter boxes behind the seat, and comfy crates.
Prepare your pets for their road trip well in advance by letting them acclimate to riding in the car by taking them on daily or weekly car excursions. Start with just a few minutes and then increase the time so they aren't shocked by being in a moving car for hours.
Though I haven't seen it myself, properly restraining your dog is often recommended for the safety of your pet and the other occupants. Unfortunately, anything or anyone that is unrestrained during a crash becomes a dangerous projectile. Be safe!
Stop often enough to let your pets stretch their legs and release their pent-up energy. Some owners love to play with their pets off-leash at rest areas, while other owners find it safer to opt for a walk on a leash.
The traveling tip I hadn't thought of until I asked my friends with two awesome dogs was to be aware of traveling when the geese are migrating because dogs may eat goose poop which can be a carrier of parasites or diseases.
BUSSES & TRAINS
If you want to travel by train or bus, you may be out of luck as many carriers don't allow non-service animal pets.
LET'S GO!
Before heading out for your summer vacation, refer to the list above and obtain a health certificate, research the policies of airlines and lodgings, pack a bag for your pet, plan ahead, and enjoy the adventure of a journey with your favorite four-legged companion!