Illinois Smacks Down Puppy Mills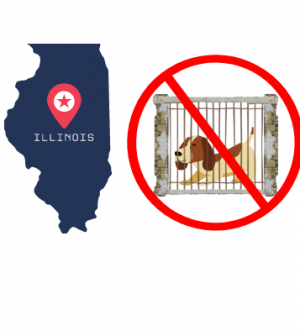 Cool news from the Midwest and our pals over at Bailing Out Benji! Here's a note we received earlier this week:
"Last night, just before 9:30pm the State of Illinois passed a bill that would prohibit pet stores from selling puppies and kittens from animal mills. They became the 5th state to pass similar legislation behind California, Maryland, Maine and Washington. This is a historic vote because it will affect around 20 puppy-selling stores and the puppy mills they buy from. The ripple effect of this one bill will cause the downsizing and closure of many midwest puppy mills, who are currently sending thousands of puppies into the state annually. You can count on us to monitor the puppy mills and report back as the numbers continue to trend downward.
Sadly, a similar bill in Texas died on Saturday without being brought up for a vote. Our volunteers are still working hard in New York and Pennsylvania  to make sure their similar bills pass as well. Each of these states would also have a massive impact on Midwest puppy mills and we are hopeful that they will be successful."
Mindi and company continue to do great work on behalf of animals and advocates across the country. To support them, click here.