Just in time for Saturday's protest, CVI shows Pets R Us bought, sold pup with heart murmur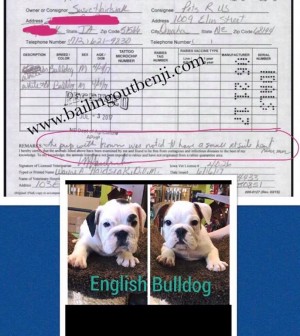 Research of Certificates of Veterinary Inspection (CVI) from Iowa and completed by Bailing Out Benji (BoB) has revealed a bit of news just in time for Saturday's peaceful protest at Omaha's Pets R Us.
For more about the protest, details are on our events page.
In a CVI from Iowa's Department of Agriculture-Animal Division one can find evidence that Pets R Us purchased two English Bulldog pups from Susie Haidsiak (she owns nearly 50 adult breeding dogs according to Bailing Out Benji), one of which had a "small right side heart murmur" upon inspection before coming to the store.
In a Facebook post published Feb. 16, 2018, Bailing Out Benji states that on top of finding that a pup with a heart murmur was purchased by Pets R Us, the store had also done business with multiple illegal breeders. What's concerning about the CVI, BoB says, is that the CVI was completed by someone with the same last name as the breeder AND that a pup with a heart murmur was to be sold at the pet store. The animal advocacy group also states it is unlikely that Pets R Us would alert buyers the pup they were looking at had a heart condition.
Heart murmurs in puppies can be caused by disturbances caused by abnormal valves or vibrations, obstruction, diseased valves, dilated vessels, and disturbances caused by regurgitant blood flow.  There are many levels of severity of murmurs ranging from surely lethal down to ones that will likely go away. The issue here isn't which type of murmur was evident or how severe it was, it's that a breeder would sell a pup with a murmur and a store would sell it- especially if the buyer of the pup wasn't made aware of the dog's condition. 

None of the news coming out of Pets R Us is positive, which gives animal advocates even more reason to be ready for Saturday's protest. From noon until 2 p.m., an estimated 65 protesters will line 108th Street just south of Center in Omaha, an intersection adjacent to Pets R Us.
Read about some other concerns that have come to light recently by visiting our puppy mills/advocacy page.
And to stay abreast of what's happening with Bailing Out Benji and its Nebraska team, Puppy Mill Free Nebraska, follow on Facebook.