Keeping Your Pet Stimulated with Playtime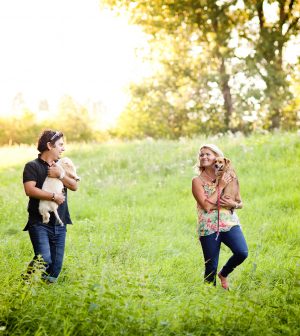 Are you a pet parent who loves playing with your furry friend? Playtime is essential for our pets because it allows them to exercise their body and mind.
You can stimulate your dog with playtime by playing a fun game of fetch or tug of war with your pup. Cats prefer to hunt, so providing them with a simulation of chasing and catching their prey helps them act out their predatory instinct. There are plenty of great toys that your pet will adore.
Cats and dogs like different toys but love interactive toys like food puzzles. In this article, you will learn more about what toys are perfect for your pet and how to keep your pet stimulated with playtime.
Keeping Your Pet Stimulated with Playtime
Dogs and cats may play differently, but one thing is for sure: both enjoy playtime! Dogs tend to like active toys like balls and ropes woven for tugging. Cats are a bit more complex with their desire to hunt—however, dogs and cats like enrichment toys that awaken their minds.
Dog Toys
The following are some of the best toys for your canine companion:
Best Ball
Jolly Pets Tug-n-Toss Ball is a ball that can do it all. You can use it to play fetch or tug of war with your dog. Your precious pup can play on land and in the water. Take the ball with you when you take Fido to the pool, and this ball will quickly become their new favorite toy.
Best Interactive Toy
Outward Houd Hide a Squirrel Plush Dog Toy Puzzle is a great game to stimulate your dog's mind. Your pup must figure out how to get the squeaky squirrels out of the holes in the stuffed object. It also has the benefit of being soft and cuddly for your dog to sleep with.
Best Puzzle Treat Toy
West Paw Zogoflex Qwizl Canine Puzzle Treat Toy is a treat-dispensing puzzle toy that will keep your pup entertained and busy. You can also use it to fetch and toss after the treats are gone. It is also ideal for puppy teething and aggressive chewers.
Best Frisbee
Nerf Dog Automatic Flyer is a sturdy, durable frisbee that will have your dog (literally) jumping for joy. This lightweight, fun rubber frisbee will outlast constant chewing and many rousing games of fetch. The hole in the middle makes it an easy catch. This frisbee is water resistant and great for the pool and beach.
Cat Toys
The following are some of the best toys for your furry feline:
Best Wand
SmartyKat Silly Swinger Wand is a special 2-in-1 cat wand with which Fluffy will have so much fun. This toy has it all. A bonus catnip toy your cat will want to get their paws on, fluffy feathers and ribbon, guaranteed to get your kitty jumping—excellent toy to encourage quality bonding time.
Best Interactive Toy
PetSafe Bolt Automatic Laser Toy is fantastic to get your cat darting back and forth, chasing after the little moving red dot. This toy will challenge the kitty and stimulate their need to hunt for prey. An adjustable mirror also allows you to direct the light—entertaining for you and your cat.
Best Catnip Toy
Yeowww! Catnip Toy, Yellow Banana is purrfect for cats who enjoy the hunt and love catnip. This toy is great because it is shaped in a way that allows kitty to get a firm grip with their paws. Catnip can also promote relaxation once they are done being hyper and playful, of course!
Best for Scratching
Frisco Scratch & Roll Scratcher Toy combines a toy and a scratching surface. The toy features a rolling ball, and a packet of catnip comes with the set. Cats love to scratch, and the scratch pad is a place for kitty to scratch happily. You can also replace the pad when it wears down. This toy is both amusing and functional.
Reasons Why Play is Important for Pets
Playtime is enrichment for your dog or cat. It helps them for several reasons:

Boosts endorphins

Improves confidence

Strengthens your bond

Encourages socialization

Satisfies natural instincts

Relieves stress and anxiety

Provides mental stimulation

It keeps them trim and healthy

The most important thing about play is that it is tons of fun for your pet! So, get out those toys and let the games begin!
Conclusion
Ensuring your pet gets enough play and exercise is crucial to being a pet parent. There are many toys to choose from, and you should check out some of the ones in this article. Always make time to play with your pet. You want your dog or cat to be as happy, healthy, and well-adjusted as possible.