Little interest in this rescue dog means your help is needed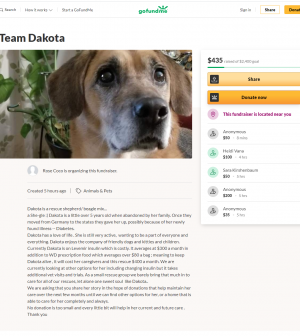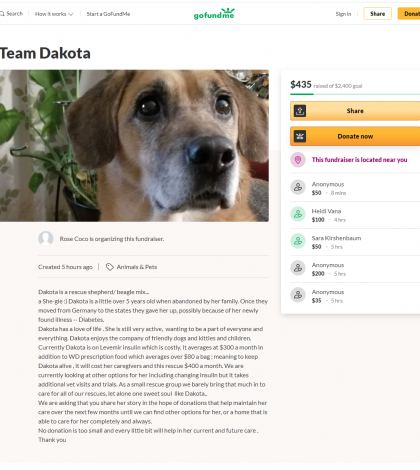 Helping Hand for Animals recently contacted us with details concerning one lovely pup who needs a little help. She's got a GoFundMe page and is in need of a family. See details below and help if you're able!
Dakota is a five-year-old rescue shepherd/ beagle mix (a she-gle?) whose family abandoned her, possibly because of her newly found illness. She's had little interest shown in her thus far, but this campaign can help her (and her new family?) get her new life off to a good start.

Dakota's family had moved to the states from Germany, but surrendered her, despite her love for life. She's still very active and wants to be a part of everyone and everything. She enjoys the company of friendly dogs, kitties, and children.

Currently Dakota is on Levemir insulin which is costly. It averages $300 a month in addition to prescription food which averages over $80 a bag, meaning she needs about $400/month from her rescue/caregivers in order to continue living.
Her advocates are exploring options for her including changing insulin but it takes additional vet visits and trials. As a small rescue group, Helping Hand puts much into care for all of its rescues, especially to help sweet souls like Dakota.
If you are able to help, contact the rescue or donate through this GoFundMe page. If you aren't able, we ask that you share her story in the hope of donations that will help maintain her care over the next few months until other options can be found for her, including a home able to care for her completely and always.

No donation is too small and every little bit will help in her current and future care.