Local puppy mill advocacy group to appear on Animal Planet's Amanda to the Rescue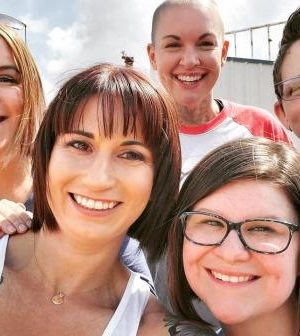 Our friend Mindi Callison, founder at Bailing Out Benji, is excited (as we are!) to announce she and members of her team will be gracing your television screens once again! Here's a letter we received along with information on how you can help Benji educate more about puppy mills.
We are SO thrilled to announce that we will be featured on Animal Planet's Amanda to the Rescue for the second season in a row. You can catch us on Animal Planet this coming Saturday Night (November 16th) in a special crossover episode between Pit Bulls and Parolees and Amanda to the Rescue. We will be educating about the puppy mill industry and turning over one of our puppy mill survivors to Amanda and Panda Paws Rescue. Check your local listings for the specific time!! You can view the special promo that Animal Planet created for us here.
Tuning in? Be sure to snap a photo of your TV with us on and tag us on social media using the hashtags #EndPuppyMills #BailingOutBenji #AmandaToTheRescue. Let's show Animal Planet that the world wants to see more puppy mill awareness!
We hope you will mark your calendars for #GivingTuesday which is coming up quickly on December 3rd. Giving Tuesday is one of the largest fundraising days of the year and it is one of our last chances to raise enough funding to help us keep our programs up and running for 2020 and beyond! This holiday season, Bailing Out Benji is running movie theater ads that will eduacte one million potential puppy buyers and we will also have billboards in Illinois and Washington to educate about the link between pet stores and puppy mills.
There are several ways that you can help our small nonprofit organization:
1. Create your own #GivingTuesday fundraiser on Facebook. With this easy link, Facebook makes it effortless to encourage your friends, family and coworkers to donate to your favorite nonprofit!
2. Make a year-end donation to help us continue our efforts! You can either donate today or make a note on your calendar to donate on December 3rd.
Donations can be made a variety of ways!
-Through this fundraising link
-By mail: PO BOX 203 Ames, IA 50010
-Paypal: bailingoutbenji@gmail.com
-Venmo: @bailingoutbenji
Or, if you have saved your payment information with FastAction, your contribution will go through immediately on clicking a link.
3. Help Bailing Out Benji with a matching campaign by contacting me to make a donation of $500 or more, so we can challenge our supporters to double their donation during the month of December. Challenges like this are extremely powerful for our supporters and we often raise more than the goal.
If you can't give, please consider helping us change the world for puppy mill dogs by educating your contacts about the cruel puppy mill industry. We are rolling into prime "puppy buying" season and it is up to all of us to help the dogs trapped in puppy mills by talking about the various ways they sell to the public. You can view the myriad of educational articles we have on our website and share the ones that you think would be the most powerful in your circle.
Big change takes all of us, and I am so thankful to have your voice helping us fight for the dogs still trapped in puppy mills. We have big plans for 2020 and are grateful for your continued support. If you are interested in getting more hands on, please contact us here about volunteer opportunities. 
Way to go, Mindi and friends! We'll be watching and cheering you on from Omaha and elsewhere.