Long Dog Fat Cat introduces locally-sourced jerky for dogs and cats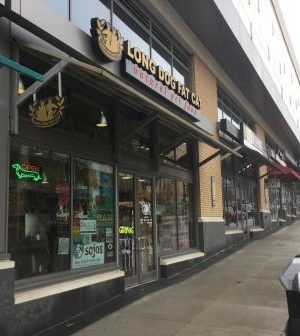 Long Dog Fat Cat is one of our favorite area humane pet businesses and they've been a great rescue partner to the community. From sponsoring animal events to celebrating local companies that care for companion animals, Long Dog Fat Cat (and its three Omaha locations!) is a great asset to our pets and their owners.
The stores (Loveland, Village Pointe, and Midtown Crossing) are excited to be selling its OWN jerky to pet owners and we're excited to tell readers about it.
"It's made from locally-sourced organ meat (mostly cow and pig heart) that we dehydrate at 90 degrees for 24 hours," said Midtown manager Eric Nault. "This allows for 100 perccent enzyme retention, making for an incredibly gut-and-heart-healthy treat for dogs and cats."
For more on the jerky and all other products, stop in and speak with the natural and raw food experts at Long Dog Fat Cat. You can also browse products by visiting the store's website here and follow on Facebook, too, by clicking here.