Lost service dog returns home while 69 displaced animals continue looking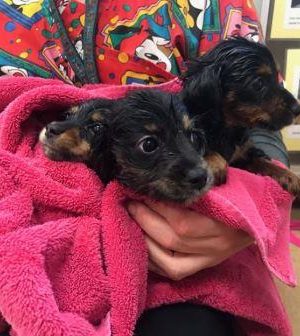 A couple of local stories caught our eyes this holiday weekend in Omaha. One ending is happy while the others are waiting for willing participants to complete the story.
Omaha resident Brennan Greene lives with anxiety and post-traumatic stress disorder. Copper, his service dog, provides a lifeline he relies on. Copper and Greene were separated after a car accident.
After searching on his own to no avail, the community stepped up to reunite the team. Take a peek at this recent KPTM story for more on the happy reconnection.
The other local story we're keeping an eye on involves 69 cats and dogs transferred recently from Arkansas to the Omaha area, and was featured in the Omaha World Herald.
As part of the Arkansas-based Artemis Project, Nebraska's Animal Loving Advocates (NALA) has received 69 animals to care for. After a large shelter in Arkansas closed, rescue advocates have taken on the work left by its absence, sending animals around the country to be fostered and adopted.
Most of the animals are healthy, but some need special attention, as is typical is rescues of this size. For information about the rescue, this effort, and/or how you can foster, adopt, or donate, click here.