My Love for Animals Started When… A story from Steve, a reader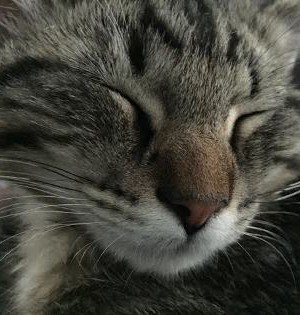 We've been telling you stories recently, highlighting special moments when our team members realized (for the first time) that animals were truly special to them. Our editorial manager told his story about a distressed bunny rabbit, and Alli, content contributor, detailed her history as an animal lover. Now, please read and enjoy this tale from Steve, a reader of ours, as he recalls how felines changed his life forever.
And remember, we want your story! If you'd like to tell us and share with our audience, please use the Contact page by clicking here.
From Steve:
I don't every remember not loving animals and pets of all kinds.
Of all the memories I have, one that always sticks out is when I was in my twenties.  The apartment where I lived had a cat and that "apartment cat" had a litter of kittens.  However, the litter was early and the only 1 or 2 of the kittens were healthy.  At the time, I had no idea what to do with the new and unhealthy kittens.  I tried eye droppers with milk, thinking I would be able to care for them.  It didn't take long to discover that I wasn't doing any good with them and I'm sure one or two died.  I took the remaining kittens to the humane society and they educated me and took the kittens.
I don't know that there was any positive outcome for the little kitties, but it did make an everlasting impression on me.  All of my adult life, I have had "rescue cats" in my home.  I have 3 at this point and they are amazing creatures.  I wouldn't know what to do with out them.