March 2019 Nebraska Flood info for pet owners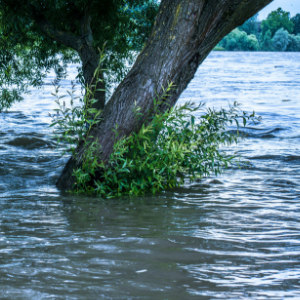 Earlier in March, eastern Nebraska had feet of snow on the ground. Record-breaking snowfall for much of the area has since melted in the recent warmer temperatures, and fast. Though many wished for winter to end, this isn't really what we all had in mind. Rivers and other waterways are jammed with ice and spilling over. The ground is swelling all over. Water has rushed into homes. All bad news, and not just for homes.
Animals are effected, too, both wild and domestic. Given the recent evacuations and road closures, problems have presented themselves. Here's a quick list of things we've seen that aim to relieve stress, provide refuge, and rally support for those effected by the onslaught of water.
Rescues still pulling animals from flooded areas (March 28)
This from Muddy Paws Second Chance Rescue via Facebook:
URGENT NEED FOR BOATS TOMORROW 3/29/19: Mills County Sheriff's Department is allowing Muddy Paws Second Chance Rescue to enter areas of Pacific Junction, IA, tomorrow that are still deep in water. Our ability to do this depends on whether we can find boats with experienced drivers to take us in. Will require an air boat or a boat with a mud motor (although other boat options would be great, just air boat or mud motor would be ideal). We are hoping to find at least 2 boats. If you think you can help please call Terri Larson ASAP at 402-515-2570. She can work with you to get you credentials to be allowed into the flooded area. Work starts at 9:00a.m. tomorrow. WE ARE STILL FINDING ANIMALS ALIVE in Pacific Junction! Hope is not lost yet.
About 3 hours after posting the above, enough boats were located and promised. What another great response from the community.
Donation Drive for Flood Victims at Pets Earth (March 26)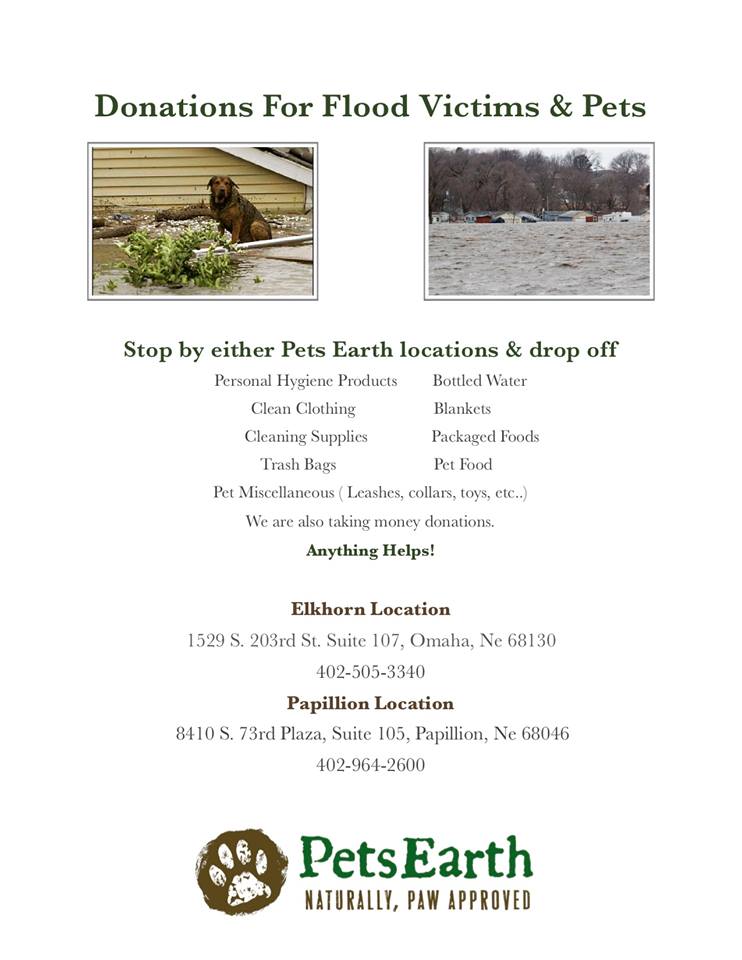 National Coverage of the floods here, in Iowa and elsewhere from Reuters (March 20) 
Local coverage of the floods and how you can help can be found on WOWT and in the Omaha-World-Herald (March 19)
Donation Drive in Lincoln to collect supplies for people and pets effected by floods (March 19)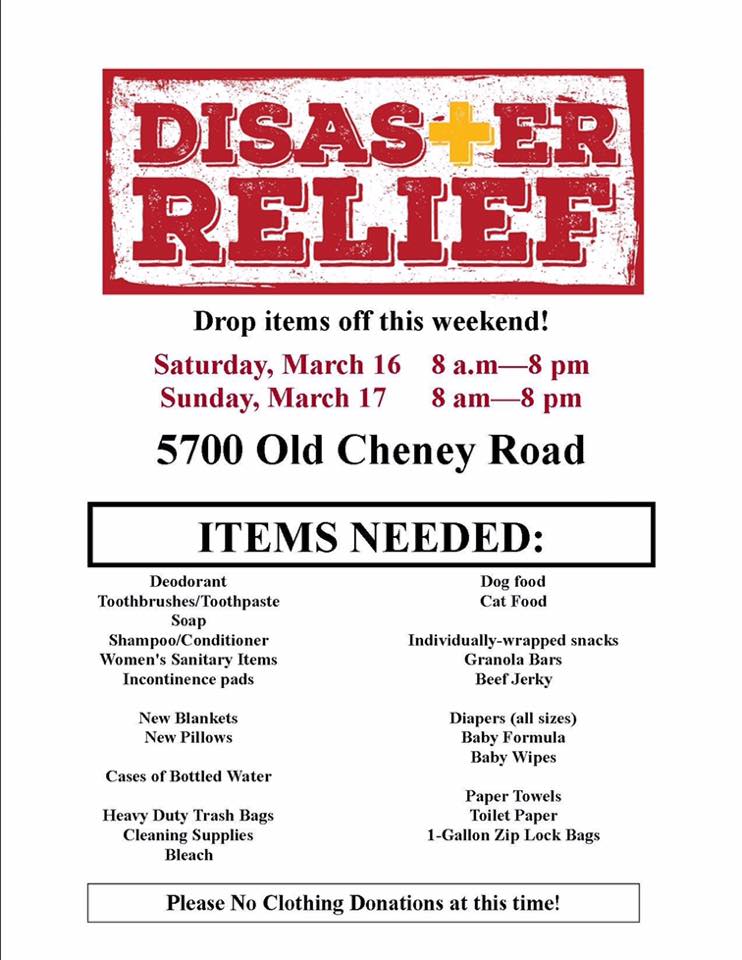 NHS to help animals impacted by floods (March 18)
NHS is helping animals impacted by the record flooding.
Give Here: http://bit.ly/2Oey89X
We're currently working to assist these animals and your donations will allow us to further help them.
You can donate through Facebook or give on our website here:http://bit.ly/2Oey89X
Team leaders needed– contact Hooves and Paws Rescue of the Heartland (March 18)-
From the Hooves and Paws Facebook page: UPDATE… TEAM LEADERS for the flooded areas NEEDED for Hooves & Paws Rescue of the Heartland. We need Team Leaders for animal removals in areas of Iowa and Nebraska. We also need truck and trailers on stand-by. If you can help PLEASE CALL ME directly 712-355-3721. DO NOT TEXT. When calling leave me your name and phone and how you can help. We want everyone to remember to stay safe and think through everything before going into areas to remove animals. These areas ARE flooded. you will be going into. They are very dangerous areas as the water is still rising and the water is moving quickly in many of these areas. We do not want people to loose their life. We have worked since Friday removing Horses, Donkeys, Dogs and Cattle of all types. We are so proud of our Team and very thankful to everyone.
Dry Hay Donations Needed
Many horses have been trapped by floodwaters and need DRY HAY… click here for details
Horse Emergency – help needed ASAP (March 17)
Genea Stoops, via Facebook, says, "URGENT We need one truck and horse trailer. Ours are all on the road in use. We need to try to get to two mini horses in our area out of the flooded area. And we need a local foster home that has shelter. We DO NOT want to take them out of our area in Mills County, Iowa. They will need Vet care. 712-355-3721.
From Hearts United for Animals in Auburn, NE (March 16):
HUA has made space for temporary housing for dogs displaced.  NE City is under water but we should have transport help soon.  Can possibly take small dogs on a permanent basis from damaged shelters on a case by case basis.  Our main focus is on family pets that need someplace safe until the humans can relocate/rebuild.  We are here for them, no charge for any services of course.  Email inquiries can be sent to jill@hua.org.
LOVE NEBRASKANS!! So many offers to help.
50 cattle. 25 horses. NEED HELP!!!
Encircled in water up to their chest.
Looking for airboats and trailers to get them out.
If you can help text me. 402.432.2814
From Muddy Paws Second Chance Rescue (March 16)
THIRTY DOGS IN WATERLOO, NE NEED MOVED. THEY ARE IN KENNELS AND WATERS RISING!! CALL 4027084495 IF YOU CAN GET TO THE WEST SHORES LAKE AREA OF WATERLOO. ADDRESS IS 845 N 252 ST IN WATERLOO.
If you have animals affected by the recent flooding and need help, please reach out to Muddy Paws at 402-515-2570. We can help with food, collars & harnesses, leashes and other supplies. We can also help you locate temporary housing/boarding and transportation for your animals if needed.
We have a team of 15 volunteers ready to offer assistance, but we do not have access to water craft or boats. Please don't leave your animals behind…so many have already perished. Stay safe!
Farm animals unaccounted for (from the Omaha World Herald) -March 16:
From Papillion Animal Hospital (March 15):
If you are being evacuated due to the flooding and need a place to keep your pets safe, we have limited kennel space available. Please reach out to us and we will do all that we can to help you and your furry family members during this difficult time.
From Nebraska Wildlife Refuge (March 15)
Many of you have been kindly calling and writing over the past 24 hours to ask if our Wildlife Center along the Platte River in Louisville, NE is safe and asking what you can do to help wildlife during this difficult time. Because of that, we decided to share some information on our site, by e-mail, and by social media.
First, please know that yes, our Wildlife Center in Louisville is indeed on/near the floodplain,and in minor floods, often takes on water.  We do expect problems in the building in the coming days. Fortunately for us right now, all of our animals have been evacuated from the Wildlife Center since early December due to needed renovations that have left the building unusable for the foreseeable future.  If the building floods, we will lose a large amount of equipment and supplies – but those things are replaceable and not as important as the animals.  All of our patients are currently being cared for at our second site in Washington County, which is well out of harm's way.
In the coming weeks it is likely that we will share with you plans to move in the spring or early summer, and where our public Wildlife Center will be.  We might need your help getting to our goal, and hope that you'll hang with us until we have news we are ready to share.
Second, it is true that this flooding is devastation to wildlife, just as it is to humans and livestock.  We'd like to share a few tips with you about wildlife and floods:
Your Safety Comes First
Do not ever put yourself in harm's way to save a wild animal. As we tell our volunteers and staff, more animals will be saved over your lifetime if you are here to rescue them and advocate for them. You need to protect yourself first!
Babies in Dens
This winter was long and hard, leaving many wild animals starting spring at a deficit.  In addition to that, many wild mammals have babies they are caring for right now. We are particularly concerned for the ground burrowing mammals, including badgers, woodchucks, coyotes, foxes, and rabbits. All of their dens and nests are susceptible to flooding.  If mother animals can't move their babies in time, they are sometimes floated away in flood waters.  If you find a live baby mammal in water or laying alone and cold, it needs immediate help.  Use something to cover your hands (gloves or a towel) and pick up the baby.  Put it in cardboard box and get it warm using a plastic bottle full of hot water or a heating pad set on low.  Call us immediately at 402-234-2473 for assistance.  (Do not stick your hands in a den!)
Moms Moving Babies
Foxes and coyotes in particular are working right now to move kits and pups out of harm's way.  Please be particularly attentive when you are driving and give these moms a chance when they are crossing roads.
Please also have some extra patience when you see these animals out during the daytime and travelling through your yard.  Know that they are struggling to protect and feed their young, in an area where floodwaters may be causing dwindling resources.
Falling Trees
When the ground gets saturated with water as our ground is now, trees often uproot and fall.  Squirrels and raccons have their babies in trees right now, and if a tree comes down in your yard, it is a good idea to see if any of these animals were affected.
If you find healthy and warm baby squirrels or raccoons, place them in a shallow box with a t-shirt or sheet and give them a source of warmth, like a plastic water bottle filled with hot water.  Leave them as close to the base of the tree as possible (during the day for squirrels and at night for raccoons) and leave the area, giving the mother animal 4-6 hours to retrieve her young.  If the mother doesn't retrieve them, they will need to come to us for care.
If you find babies that are cold or listless, warm them up as above and call us immediately at 402-234-2473.
Opossums in Pouches
Opossums also have babies in their pouches right now, and will be travelling more extensively out of territories affected by floodwaters.  Please "give them a brake" as well and watch out when driving, particularly at night.  If you find a dead opossum on the road you can check the pouch for babies (wear a glove) that have survived the impact.  Wrap the babies loosely in a t-shirt, put them in a box with a warm water bottle, and call us.
Final Notes from the Canadian Wildlife Federation
If you live in an area where flooding has occurred, please be aware of wildlife that may be displaced as a result of the flooding.  Flooded habitats can force wildlife to seek temporary refuge in areas where they might not normally be found.
We encourage you to minimize your contact with the animals as they may be under duress and in survival mode:
Do stay away from areas where wildlife have taken refuge.
Do not interact with or feed wild animals.
Do avoid roads in flooded areas to reduce the interference with wildlife and possible wildlife collisions.
Your kindness, patience, and vigilance go a long way to helping wildlife.  Together we can help the animals survive into what will hopefully be an easier spring.
 
Thank you so much for your care and support!
The Staff and Volunteers of NWRI
From Hooves and Paws Rescue of the Heartland (March 15) 
Horses, Donkeys & Cows have all been transported from the flooded areas that we were called in to help and they are safe! A huge thank you to those who brought in trailers and trucks and those who helped load animals. Also, thank you everyone for sharing our post. We could not have done this without all of you. Stay tuned as I am sure more animals will need help and we will post them as they come in. We are blessed to have such a large network of animal lovers, friends and family.
This is great news, but other horses are in peril… see the comments on this Facebook post for others needing assistance. 
On the Lost Pets of Omaha Facebook page (March 15)
——LOST—ELMWOOD NEBRASKA——
LOST IN THE FLOOD IN SEWARD COUNTY: Lily is white American bulldog. She is older and fatter than in this picture. The black spot over left eye is a bit faded. She is extremely friendly and docile. Any information please call 402-658-4306.
Last seen at 238th in Elmwood Nebraska just east of Lincoln. She and her owner were being rescued by boat-she panicked and swam away. I know this is Omaha area but I'm blasting this everywhere I can think of.