Miracle Kitty with fish skin from NHS is going back home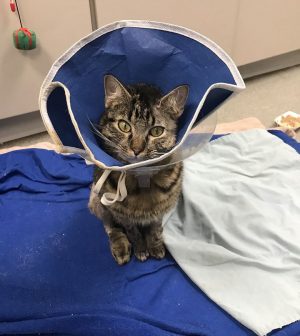 Surely you've heard about King, the Omaha cat who was badly burned in a house fire? If not, read up on him here.
A quick summary from the Omaha World Herald will do, too:
OMAHA — A little more than a month after being seriously burned in a house fire, King, the Omaha cat treated with tilapia fish skins, has returned to his family to continue his recovery.
Veterinarians at the Nebraska Humane Society used the fish skins, sourced from a local market, as a kind of organic bandage to help speed King's healing and provide some pain relief.
Now King, who's had several surgeries to close wounds, has recovered to the point where it's safe for him to leave the organization's medical center, said Pam Wiese, a Humane Society spokeswoman.
What a wonderful end to his traumatic time. Certainly he's got a bit of recovery ahead, but it seems the hardest part is behind him. Good luck to King and his family!
Feature image above: Nebraska Humane Society Facebook page. Find more here.