Help the Nebraska Humane Society during the Omaha Gives fundraiser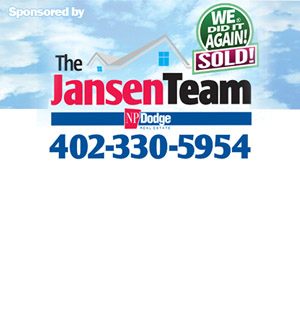 There are so many ways you can donate to and support the Nebraska Humane Society, but on May 21, 2014, you and the rest of Omaha will be able to make a GIANT contribution to the shelter. Here's how:
Each year, The Omaha Community Foundation hosts the "Omaha Gives" fundraiser, one which helps to raise money for local non-profit organizations like the Nebraska Humane Society. This year, the event will be held from midnight to midnight on May 21.
The Omaha Community Foundation, according to their Web site which can be found by clicking here, "connects people who care about our community with the people and nonprofits who are doing the most good here. From a practical standpoint, we simplify the philanthropic process and give donors more financial flexibility. We make it easier for generous people to accomplish more with their gifts." Since 1982, The Foundation has raised more than $850 million for local non-profit organizations.
We're working to determine our community's greatest needs; to build up its nonprofits; and to find new ways for people to come together to give.

-The Omaha Community Foundation
The Foundation was founded by Omaha residents who believed in the future of Omaha's community. It continues to serve that future by raising money for non-profits, awarding grants and building philanthropic efforts from the ground up. The Foundation's Web site gives this statement as to its purpose:
To the right, you'll see a very simple map that illustrates where money comes from, where it goes and how it is used.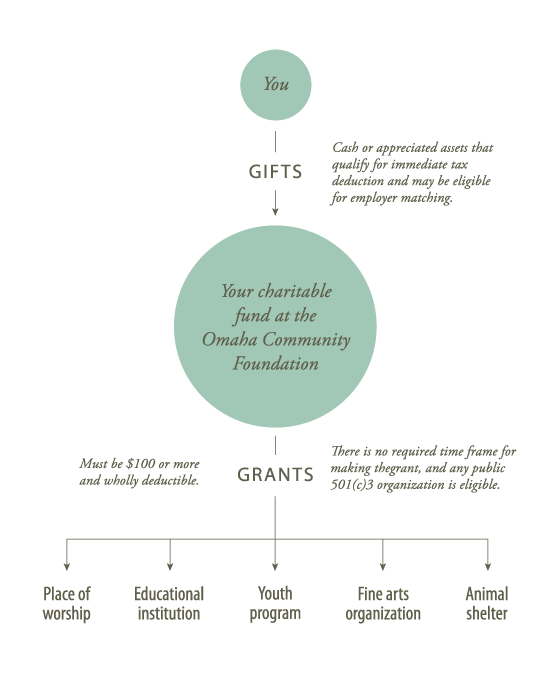 Now that you know the mission and history of the Foundation, let's all get excited for the 2014 Omaha Gives Fundraiser!
When the clock strikes midnight and May 21 is underway, you will have 24 hours to donate to any registered non-profit organization you wish. Omaha's 2nd Annual "24-hour charitable challenge" will serve 570 nonprofits in Douglas, Sarpy, and Pottawatamie counties.
Donors have 24 hours to support their favorite nonprofits by making a donation of $10 or more. To raise the stakes, The Foundation has secured over $100,000 in prize money for the nonprofits that receive the most support (that included the Nebraska Humane Society last year) and it is currently raising matching funds to amplify each donation.
Click this link to find out who's taking part. The Foundation (and we, too!) hopes you will rally your circles and to get set to give. We're all in with The Foundation and agree as their Web site says, "Let's show off just how generous our community can be!"
Here's how you can help: Follow these instructions that come from OmahaGives24.org.
Beginning May 21 at midnight and for the next 24 hours, go to omahagives24.org and use your credit card to donate to any nonprofit that has registered to participate. You can search for a nonprofit by name or by service category or location. Participating nonprofits will have a donation page on omahagives24.org where you can choose the amount you want to donate from $10 on up. Some nonprofits will also have chosen to add the authorized omahagives24.org donation form to their own websites to give you another place to give during Omaha Gives! These forms will carry the Omaha Gives! logo. When you get online to donate, you can use the OmahaGives24 Web site or use this direct link to give to the Nebraska Humane Society: http://www.omahagives24.org/#npo/nebraska-humane-society
If donating wasn't enough to warm your heart, please know that your donations are 100 percent tax deductible.
"Last year we didn't raise the most money, but we had the largest number of unique donors, so we earned the top prize of $10,000 (for non-profits having large budgets). So, If people pop on and just give us $10 (the smallest amount you can give) and then ask their friends and family to do the same, that will help us win the prize again! Obviously, larger gifts are VERY appreciated, but we're trying to show that even a $10 donation can make a big difference."

-Pam Wiese, VP of Marketing and Advertising for the Nebraska Humane Society
Write yourself a note. Tell your friends. Let's make May 21 a great day for all non-profits in Omaha, but especially great for the Nebraska Humane Society! The more money that is raised, the more money the NHS will have to serve the animals. Rehabilitation, spaying and neutering, immunizing animals and microchipping them are just a few ways the NHS will use the money. Be kind and donate on May 21!