Nico the Chiweenie is a special dog who needs a special home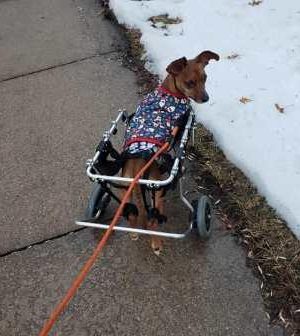 Tiphany Lane, Lincoln's Bailing Out Benji team leader, recently told us about a special pup she's been fostering and we're compelled to get the word out about him. Nico, a chihuahua and dachshund mix, has some special needs. Please read and share his story so he can find the perfect home!
Nico originally came into rescue June 2016 when Tiphany pulled him from the kill list at a Wichita Animal Shelter. He was adopted out to a family in July 2016.  In mid-December 2017, Nico could no longer walk and was diagnosed with Intervertebral Disc Disease (IVDD).
His adoptive family decided it could no longer care for him and surrendered him back to rescue on Dec. 27, 2017. Nico was on crate rest for the first couple of months and began receiving acupuncture treatment as soon as he was back in rescue.
"The first couple of months were really rough as," Tiphany said, "Nico hated crate rest. He's a very active dog and was bored." Once he was able to leave the crate, his life took a turn for the better. Tiphany and others were able to borrow a cart that allowed him to go for walks, which he loves to do.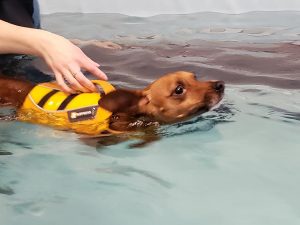 In April 2018, Nico started going to Five Elements in Omaha for chiropractic treatments, and in May 2018 he started to briefly stand, even taking a couple of steps. He's been receiving hydrotherapy treatment since August 2018 and is able to stand for longer periods of time and take more steps. Find pictures and videos on Nico's Facebook page here.
Nico is looking for a family that will love and accept him.  He's made a lot of progress from when he was returned to rescue, but there is a chance that he will never fully walk again.  He's such a happy little guy, Tiphany said. He's also very active and full of energy.
He can be strong-willed at times (who can't?) but is very affectionate. He loves going for walks, car rides, and to the dog park. He has recently started to gain some control over his bladder and doesn't need to be expressed as often as he once did.
Below, find a biographical note about Nico from the Revolution Rescue website, plus some additional information.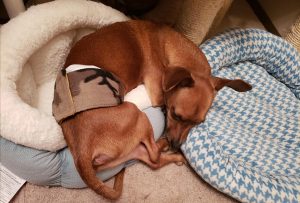 Nico is a four year old male chiweenie who was originally adopted out from Revolution Rescue in July 2016. He was returned to us in December 2017 after he became paralyzed and was diagnosed with Intervertebral Disc Disease (IVDD). Nico weighs 18 pounds and is a happy little guy who is loving life and isn't phased by the fact he can't walk. He is currently receiving chiropractic treatments, hydrotherapy, and taking a couple herbal supplements for his IVDD. He loves going for car rides and taking walks in the neighborhood in a set of wheels. He prefers not to use the wheels at home as he can get around very well without them. Nico has a few exercises he must do to help him gain strength in his rear legs…it's working as he can now stand and has taken a few steps! He has lost his bladder and bowel control, so his foster mom expresses his bladder a few times a day. Don't let this scare you as it's very easy to learn and Nico doesn't mind it at all. He does wear a belly band when he's scooting around the house to help with accidents. Nico gets along with most dogs and cats but will chase a cat if they run as he thinks they are playing. He enjoys playing with other dogs and is constantly trying to get his foster fur siblings to play with him. He loves to be with his foster mom, shower her with kisses and follow her everywhere. Nico is looking for a patient, loving family that will continue with his treatment plan and love him regardless if he's able to walk again or potty on his own. Nico is current on vaccinations, neutered and microchipped. If you are interested in adopting Nico and believe you are a good fit, please complete an application at http://www.revolutionrescue.com/.
If you can't adopt, consider sponsoring him and other animals at Revolution through the website above. And if you can't help that way, help him by sharing this post!