Olive, a three-legged kitty, gets freedom and mobility back thanks to 3D-printed prosthesis, Lincoln engineering students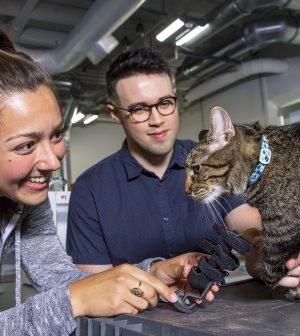 Thanks to Abby Smith and Harrison Grasso, engineering students at the University of Nebraska-Lincoln, Olive the cat has a new leg and lease on life. And thanks to the University, we're able to share the story and images seen below. We appreciate the students for helping Olive, and we appreciate the University for giving us permission to present the story on Pets in Omaha.
Olive may have nine lives, but she had just three legs.
Until the University of Nebraska–Lincoln's Abby Smith, Harrison Grasso and three fellow seniors in biological systems engineering put in the legwork that gave her another to stand on, that is.
With the help of a 3D printer at Nebraska Innovation Studio, the Husker engineering students recently finished fabricating a prosthetic leg prototype for Olive, a young tabby cat missing the lower half of her left foreleg.
"Olive was delightful," said Grasso, a Lincoln native who will earn his degree in December.
"She's a wonderful cat," agreed Smith, who came to Lincoln from Kansas City and graduated in May. "I think most of our group was more dog people. We're like, 'Oh, we're gonna be working with a cat…' But Olive was a trooper throughout the entire process."
The prosthetic was the culmination of joint capstone courses — Biological Systems Engineering 470 and BSEN 480 — that have seniors put to use, and put to the test, much of what they've learned in their previous three years. At the start of the fall 2020 semester, the BSEN 470 students completed a survey of their career goals and engineering interests. Following that survey, Smith and Grasso found themselves teamed with Jaden Schovanec, Rachael Stanek and Alexandra Jensen.
Among their mutual interests? Prosthetics. So instructor Deepak Keshwani assigned them a project conceived by Beth Galles, who has seen her share of three-legged cats — often the result of amputation following frostbite — as an assistant professor of practice with the Professional Program in Veterinary Medicine.
The team's charge: Design and create a prosthetic that was adjustable, removable, non-toxic and cost less than $100 to produce. Over the next few months, the engineers would cycle through multiple iterations of their initial design, refining and simplifying it. They settled on a two-piece prototype made primarily of polylactic acid — a generic, cheaply printable material — and a sturdy proprietary plastic.
The bottom component of the prototype ends in a short, curved base that acts as a foot and is lined with synthetic rubber, lending it traction. The top portion is a three-walled, open-faced sheath, ending in a cup that houses the nub of the amputated leg. Securing that piece to the leg proved more than a little difficult, even after incorporating Velcro straps and a silicone sleeve for exactly that purpose.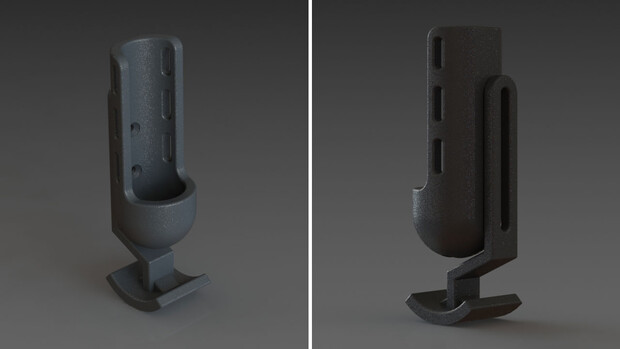 "That was one of the biggest problems we encountered, was keeping this thing on," Smith said of the prototype, which the team found it could build for about $10. "(Olive) had very slick fur and a lot of loose skin at the end of the amputation site. The silicone sleeve that we put directly on her was key in helping the prosthetic stay on."
Actually placing the prosthetic on Olive was hardly easy, either, though Smith credited the patience and problem-solving of Galles and her veterinary colleagues with easing the process as much as possible. In the end, the team gave Schovanec the honors.
"Someone in his family has a cat, so we all volunteered him as the person to do that," Grasso said with a grin. "He seemed the most qualified."
As good-natured as Olive is, Smith said, she is still a cat. Her initial, natural response to being fitted with the prosthetic was to shake a leg in an effort to rid herself of the technology that the team had spent so many hours crafting.
"Out of all the senior design projects, I guess (Olive) was the one client who was actively working to make sure our design didn't work," said Grasso. "Once we got past finding a way to actually secure it to the leg, she was obviously hesitant to use it, just because she functioned pretty well without it."
Yet she was, ultimately if gingerly, willing to put prosthetic foot to ground. Later, Olive trusted the prototype enough to put some weight on it while taking steps. By the third round of testing, she was even comfortable enough to engage in a signature housecat activity that her three-legged self was usually too hesitant to try: jumping off and onto ledges.

Those steps might have seemed incremental to some, but as Smith herself had already learned, they marked real progress when working with such a nimble, independent animal.
"Someone who works with animal prosthetics, that we talked to very early on, had said animals are real creatures with emotions, and they get used to living their way of life," she said. "So when you're testing (a prosthetic) the first time, if she even puts it on the floor once or twice, that's success. I think (it's about having) not low expectations, but just realistic expectations for how to work with not only animals, but people.
"It is a slow process. Although bodies are adaptable, it all takes time. You have to be patient with the process."
Observing Olive's reaction to the prosthetic also helped make real the theoretical. That was especially informative and gratifying, Grasso said, after months of running plans through computer-aided design software, all the while wondering how well the digital might translate to the animal.CourtesyRenderings of the prosthetic prototype, which was printed at Nebraska Innovation Studio and weighs less than an ounce.
"As we were doing it, there was an underlying level of uncertainty, just because we have never done anything like this," he said. "Our design, as far as we knew, was pretty good, but we didn't know if it actually would work. So by the time we got to the end, and it was relatively functional, I think we were all pretty impressed and pleased."
Galles felt the same way about both the prototype and the cat. To ensure the team had regular access to Olive while designing and testing its prototypes, Galles moved her from a local animal shelter into her home, fostering Olive throughout the spring semester. And when the project was over, the Galles family, smitten, decided to officially adopt her.Craig Chandler | University CommunicationBeth Galles, assistant professor of practice with the Professional Program in Veterinary Medicine, fostered Olive before deciding to adopt her.
Olive may have gotten a custom prosthetic, a home and a family out of the project, but Smith and Grasso said they gained plenty from the experience, too. For Smith, it became a smooth on-ramp to her new job with ARYSE, a Lincoln-based startup that can scan, say, an ankle before 3D-printing a form-fitting brace designed to guard an athlete against injury.
Grasso is currently applying to medical school, hoping to eventually apply his engineering background toward the design of innovative medical devices not unlike the one he just helped fabricate. In the meantime, the project stands out on a résumé and might give him a leg up in the application process.
"This was a really cool combination of all the things that you learn in engineering school," he said. "And I think our project, especially, approximated a professional setting rather well. It incorporated a lot of the things that maybe you see in an internship, or you could expect to see if you're working as an engineer in the future."
Working on behalf of such an adorable client — one that captured the interest of friends and family — was a nice bonus, the engineers said.
"I think the nature of the project itself, and the fact that we worked very closely with a specific cat who was very cute, it just pulls on people's heartstrings," Smith said. "People were very invested all along and happy to hear that it did exceed our expectations.
"And Olive ended up being such a sweet cat. We were very lucky to work with her."