Omaha Gives! 2020 Campaign- help your favorite animal advocates!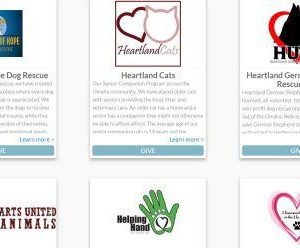 Omaha Gives! is a year-round online giving platform organized by the Omaha Community Foundation to grow philanthropy in Douglas, Sarpy, and Pottawattamie counties. Each year, a 24-hour online giving event in May celebrates participating nonprofits. This year's giving day will take place on May 20, 2020! 
The goal of Omaha Gives! is to inspire our community to come together for 24-hours to give as much as possible to support the work of public 501(c)(3) nonprofits in the metro area. The minimum donation is $1 and there is no maximum. Prizes and Challenge Funds amplify charitable donations to make each dollar go even further. To find a nonprofit to celebrate, search and review the profiles of participating nonprofits.
Since 2013, Omaha Gives! has raised more than $49 million from a cumulative 300,054 donations. During the 2019 giving day on May 22, a total of $6.7 million from 18,612 donors was raised. Donations made on the annual giving day or year-round are processed through this website.
If you follow a local shelter, rescue, or any other non-profit, you'll likely hear from it with shortcuts to donation pages. If you'd like to find out who is participating this year, click here!