Over 11K adoptions at the Nebraska Humane Society in 2018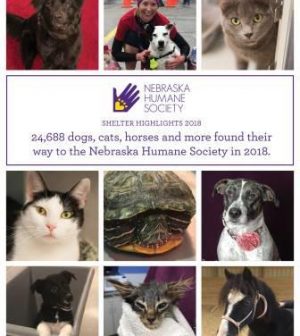 One reason we love the Nebraska Humane Society is its willingness to report yearly statistics about animals that come into the shelter. In 2018, over 20,000 animals made their way into the care of the shelter through animal control, owner surrenders, and from special situations like puppy mills, racetrack shutdowns, and others that displace animals.
Of that big, top-line number, 11,262 animals found adoptive homes. Another 2,675 animals were reunited with owners.
See the informational sheet below for other numbers.
If you're like us, you know all the duties involved with running a shelter and operating animal control in this area. If not, take a peek at the numbers, stop by the shelter, and learn about what it takes to handle this many animals in a given year.
For more on the shelter throughout the year, take a look at our Nebraska Humane Society Spotlight page here. Also, be sure to peruse the 90 articles we've written about the shelter since 2013.