Paws and Claws Camp for 6-13-year-olds promises fun and humane education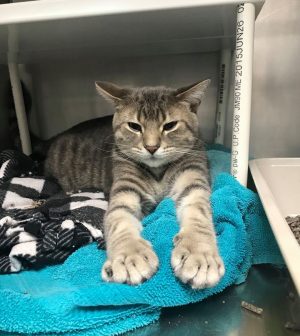 If you're looking for some place to send your school-aged kid on Martin Luther King, Jr. Day (Jan. 18, 2021), you might have considered the Nebraska Humane Society for the Paws and Claws Day Camp. Unfortunately, that day's camp is full, but more classes are on the way.
From the Nebraska Humane Society:
Our Paws and Claws Camp is an action-packed day of animal fun. Kids ages 6-13 will get a behind-the-scenes look at animal sheltering. Then they'll use their creative skills to help get those animals adopted! Meeting critters, learning about their care and then actually caring for them will highlight the day, along with making enrichment items to comfort scared dogs and cats. Pack a lunch and come spend the day with us!
Our camp is currently full, but keep an eye on our website and social media for updates on when more classes open up.
DETAILS
Paws and Claws date: Jan 18, 2021
The session is $70 and runs from 9 a.m. to 3 p.m.
Please note: Once you sign up and check out, your confirmation email contains a survey you need to fill out to complete your child's registration
Each child receives a day of fun plus a cool logo-ed "Paws and Claws" T-shirt!
Each child will be required to bring a sack lunch marked with his or her name
All activities will be facilitated by a humane educator
Education Teachers (paid staff) are all CPR, AED, First Aid, and Epi-pen trained for your child's safety
Camp takes place in our Center for Humane Education–the building just to the west of our main shelter. Pull into our parking lot and its the buildng "behind" Walgreens
QUESTIONS ABOUT WINTER CAMP?
1. How many campers are in each session? We limit the sessions to 15 campers.
2. Who teaches the sessions? We hire certified classroom teachers.
3. What if my child has a medical emergency? Our camp teachers are all certified in CPR, First Aid, Epi-Pens and AED. They will ensure the safety of the children first, then notifiy the parents of what is taking place.
4. Will my child be with kids of the same age? This is a multi-age camp so all children ages 6-13 will be attending camp together. At times there will be smaller group activities that may include children of like age.
5. What is the refund policy? Applications are processed on a first-come, first-served basis, therefore we cannot hold any spots for potential campers. A refund can be provided but will be charged a $30 cancellation fee.
6. How early can I bring my child to camp? Campers should be dropped off to the Center for Humane Education no earlier than 10 minutes prior to the start of camp. Campers must be accompanied by an adult to sign them into camp. Camp staff members are not responsible for children until they are are signed in by the adult accompanying them. Campers must be picked up and signed out by an adult immediately after camp concludes. Late pickups will be charged a fee of $1.00 per minute after five minutes. Thank you for keeping our campers safe!
7. What should my camper bring to camp? Campers are required to wear closed-toe shoes. Please note, we may be moving to different buildings or have activities in varying temperature areas. Due to this campers should wear long pants and bring a jacket. It is suggested that campers bring a refillable water bottle. Additionally there will be a lunch break during camp, so campers should bring a sack lunch marked with their names. Lunches will be kept in the classroom refridgerator, so we ask that all lunches are Peanut and Tree Nut free.
8. Will campers get to interact with animals? Day camp includes supervised animal interaction and plenty of fun!