Pet Partner Spotlight: Meet Nebraska Dog Trainers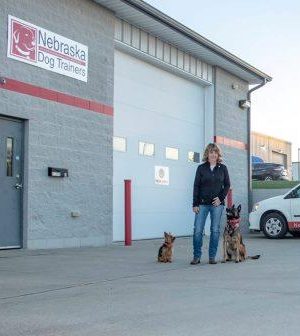 Over the years (we've been at this for almost six!), we've met and worked with a bunch of animal behavior specialists and trainers. You've got many choices when you and your canines, for example, need to put a bit of work in with manners, your relationship, or maintenance. Our latest Pet Partner, Nebraska Dog Trainers (NDT), is one great choice, and Lesley Price of NDT helped us get to know why in a recent conversation.
Enjoy this introduction to Nebraska Dog Trainers, visit the company's website here, and follow on Facebook, too!
Nebraska Dog Trainers specializes in obedience and behavior modification. Its number on goal, said Price, is to have a well-mannered dog. Secondly, its training hopes to provide dog owners with a dog that obeys 100 percent of the time off leash.
"I saw a huge need for obedience training," Price said of the years she spent training dogs to underground fences in the Omaha and Lincoln areas. To help dog owners meet that need, Nebraska Dog Trainers was founded in 2015.
As stated above, you've got many choices when it comes to canine obedience training. What sets NDT apart, Price said, is the solid obedience she teaches. "We offer private lessons and a two-week board and train program," she said. "We take obedience to the next level." NDT works with electronic collars; dogs they train are expected to be obedient with their owners 100 percent of the time without treats or a leash.
You may wonder when you'll know that the help of a trainer is needed. Price said that a dog should enhance your life, not inhibit it. If you feel like things aren't this way, look for a dog trainer who can help the balance.
NDT's customers can attest to the success of its training. Proof is also found in the awards the trainers have received. In 2019, NDT was honored with a Best of Omaha award. The year before, NDT was given the Sarpy County People's Choice Award, too. Nearly 20,000 Facebook followers and 100 5-star Google reviews add to the reputation of the company.
Find the links above to initiate contact and learn more about the trainers at NDT. If you're ready to meet with Price to discuss a program, email her at Info@nebraskadogtrainers.com or call 402-913-0251. A message on Facebook will reach her as well.