Pet People: Realtor, Motivational Speaker (and Baxter's Dad) Van Deeb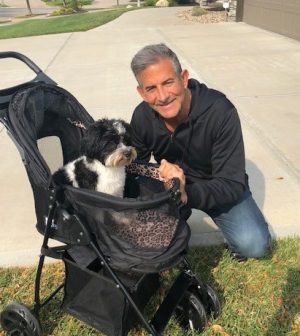 If you're into reading inspirational, relationship-building books about business,you should probably become familiar with the name Van Deeb. Likewise, if you're in real estate and are wondering how to foster a personal and profitable environment within your company, he's your man there, too. Van's a man of many talents, but the role he's recently taken on that interests us is one that surprised even the man himself- "new dog dad."
If you know anything about the people at the top of any game, be it real estate, finance, sports, or politics, you know about their unrelenting nature. Achieving at that kind of level involves maximizing every minute, spending every ounce of energy, and having laser focus. It's no real surprise to us that a man who has built a real estate company with hundreds of employees, who has literally written the book on building relationships, and travels the country speaking about his philosophy never had the desire to have a tiny, black-and-white Havanese under his care and by his side all the time. As we know, however, dogs have this magical ability of making us stop whatever we're doing to love them.
As he approached 60, Deeb achieved the enlightenment many of us gained at a much younger age- loving a dog is life changing.
A page in his book, Baxter- my first dog at 59, is titled just that: Life Changing. "He has taught me patience," Deeb writes. "He does many things throughout the day that make me smile. He takes my mind off of negative things." Through words like these, the joys of being a nascent pet parent are apparent and oh-so-relatable.
And Deeb does something sort of magical with this new book full of photographs and anecdotes too. Not only can we read about his and Baxter's joy together, we get to see and feel what it's like to fall in love with a pup. That first dog you loved, the first time you recognized the value of a companion animal- it happened (for many of us) long ago, and maybe even before the first memories we can recall. Reading this charming and handsome book allows us to experience (again) that first-time-loving-a-pup feeling.
Baxter has truly changed his dad's life. This new-at-59 feeling for Deeb has shifted his priorities. "One of the biggest changes Baxter has made in my life," he writes, "is that I am not as selfish with my time anymore. Being a good dog parent requires me to make him a priority, and I do." Whether it's during the morning routine, time spent driving around town, or winding down at the end of the day, Baxter's there with and for Deeb.
He's still Van Deeb of Big Omaha Realty. He's still a motivational/inspirational speaker who travels the country, empowering sales people and business leaders to be the best they can possibly be. The difference now is that the "he" is now a "we." Once an eight-week-old puppy Deeb said he had no interest in, Baxter has been a catalyst for positive change. Surely he's understanding what many of us have known to be true since before we can remember. Life is good, but we can't imagine it without the love of and for our pets.
Read more about Van Deeb in the About section of his website. It's there you can also learn more about his seminars, take a peek at his other books, and initiate contact. He's also got links to where you can listen and subscribe to the Van Deeb Podcast.
In a world where cynicism and bleakness can appear at every turn, it's a relief to tell a story about one of the greatest joys, loving our animals. Thanks to Van Deeb for allowing us to share in his story with his new love, Baxter.