Pets in Omaha presents- Pick-A-Pooch Adoption Days and Pet Expo
Event season is here for area pet businesses, shelters, rescues, and everyone else! A big event for all is Pets in Omaha's Pick-a-Pooch Adoption Days and Pet Expo, and, once again, it's one of the summer's premier pet events.
This year's edition of Pets in Omaha's Pick-a-Pooch Adoption Days and Pet Expo will include much of what attendees are used to:
FREE admission, thanks to sponsors like ComeSitStay, Kangen Water Of Omaha, LLC, Long Dog Fat Cat Loveland, Urgent Pet Care, Invisible Fence, Pets Earth, The Paw Spa Pet Resort, Domesti-PUPS, Pyramid Roofing, Pawsitively Stunning Boutique, Speed Pro Imaging, Renewal by Andersen, Dogtopia, Sirius Veterinary Orthopedic Center, and The Green Spot!
dozens of rescue groups and shelters
adoptable animals
over 100 pet-loving vendors
free parking
all indoor events
On July 20 and 21, 2019, join us at Ralston Arena for one of the area's top pet events! This post will be updated as new details are announced- make sure to keep an eye out for posts about the show on Facebook, expect email updates if you're a subscriber (if not, enter your address in the subscribe field atop our homepage), and watch for other promotion on TV, radio, and your favorite pet business' social channels!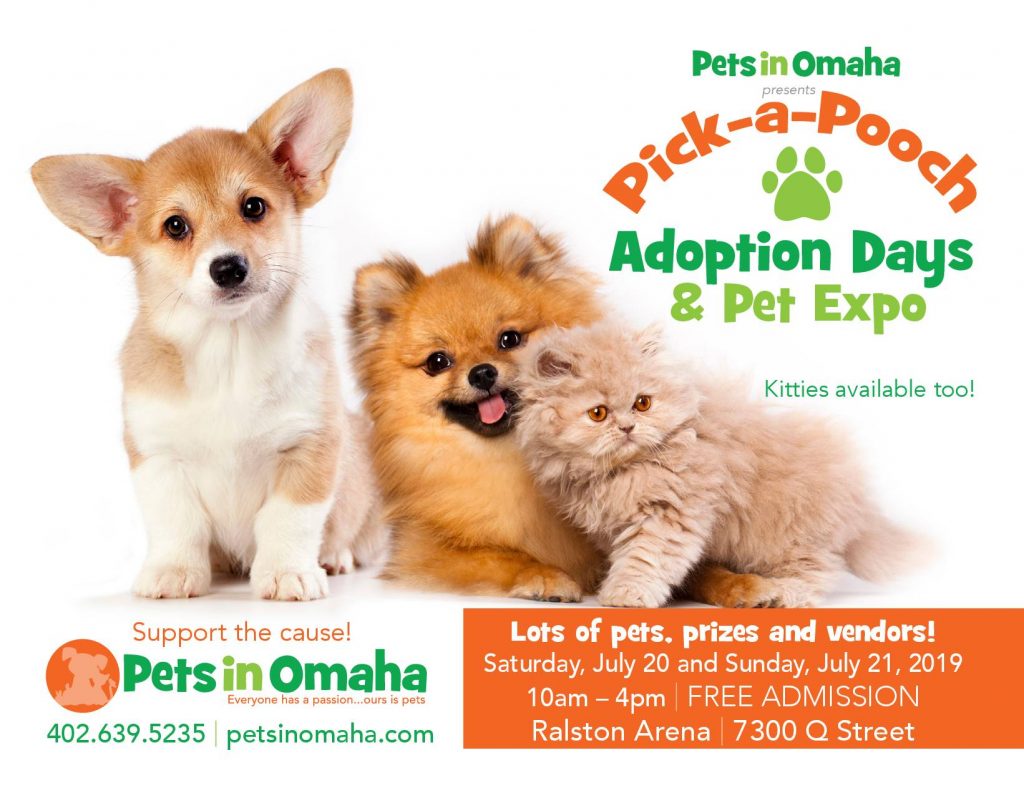 Would you like to attend the event as a vendor or shelter/rescue group? Contact Lee Legenhausen via email at lee@petsinomaha.com. Thanks to the folks who sponsor the event (look for them at the show!) and find them along with other attendees listed below. Also, for a schedule of speakers/demonstrations, click here.
Rescue, shelter, and humane organizations
Husker Weim Rescue
Snafu Rescue
Little White Dog Rescue
Ruff Rescue
Town and Country Humane Society
Nebraska Humane Society
Golden Retriever Rescue In Nebraska
Midlands Humane Society
MidAmerica Boston Terrier Rescue
Bailing out Benji
Taysia Blue Siberian Husky and Alaskan Malamute Rescue
The Foster Kitten Project
Northern Plains Boxer Rescue
Basset & Beagle Rescue of the Heartland
Hearts United for Animals
SOLAS
Big Red Rescue
The Good Life Bulldog Rescue
Big Dogs Huge Paws
Midwest Dog Rescue Network
Wags to Riches Rescue
Vendors
Nature Dog
Knots of Bows
Pet Wants
Doggurt
Barks – N – Brews
Norwex
Come Sit Stay – Diamond Sponsor
Kangen Water – Diamond Sponsor
LulaRoe
Tupperware
Traci's Fun Creations
Nebraska Dog Trainers
Canvas Salon and Day Spa
Glitter Girl / Pick A Pearl
Lil' Mac's Legging Boutique
Yappy Pack
MazzyCo Collars
Long Dog Fat Cat – Diamond Sponsor
Scentsy
Loveland Family Chiropractic
Super CBD Girl
Thrasher, Inc
Pawsitively Stunning Boutique – Silver Sponsor
Raising Canes – Same spot
Gary Kudym Glass Art
Urgent Pet Care – Platinum Sponsor
Genie Pest Control
Senegence/ Lipsense
Morgan's Munchies
Best Carpet Cleaning & Restoration
Omaha ATA Martial Arts
People & Pets in 3D
DogWatch of Omaha
MEF Elk Antler Products
Young living Essential Oils
RAWfitness
Dharma Dog Training
Bark Avenue Omaha 
Safe Haven
Courtney Kenny Art
Entremanure
Holly Carey Art
Paw Spa Pet Resort – Silver Sponsor 
Real Time Pain Relief
Gripstic
Elite Filtration
Family First Chiropractic
Ralston Vet
Invisible Fence Brand –Silver Sponsor 
Domesti-PUPS – Gold Sponsor
AT&T Mobile Retail
3 Pug Design
Harley's Dream
The Green Spot – Diamond Sponsor
KSDS Inc.
The Elusive Star
The Wooden Paw
Rowden Dog Training
AA Windows N Doors
Happy Faces Face Painting
Whisper In My Ear
Paws & Remember of Nebraska
US Cellular
Inspired Jewel SNAP Jewelry
The Beers Team –Berkshire Hathaway Home Services
Nancy Schizas-NP Dodge Real Estate
SYNLawn
Speed Pro Imaging –Diamond Sponsor
Independence Printing LLC
Paparazzi
Renewal By Andersen Gold Sponsor
Lifestyle Health Alliance
Plexus
Success Omaha
Michael McKee Legal Shield Independent Association
Fidelity K9
Color Street
Suds Galore and More
Pets Earth – Platinum Sponsor
Random Acts of Printing
Aunt Nancy's Favorites
Goodies for Gremlins
Pyramid Roofing – Platinum Sponsor
Pets in Omaha
Champion Windows & Exteriors of Omaha
Millard Family Chiropractic & Wellness
As Cosmetics
Restore Chiropractic
Dogtopia –Platinum Sponsor
Total CBD
Omaha Gutter and Siding
CBD American Shaman
Erica's Dog Training
Leaf Filter North LLC
Sirius Veterinary Orthopedic Center- Silver Sponsor 
Pet Supplies Plus
Dip Cravers
Sew in Style, LLC
Young Chiropractic
Pet's Discount
Awaken Chiropractic
Pibbles and Woo Bakery
Petsmart
American Foundation for Suicide Prevention
Rugs and Tugs
Mosquito Hunters of Greater Omaha
Melaleuca
Thomsen Bamboo
Sarpy County Tourism
CutCo
King's Home Kreations
Omaha Corgi Crew