Help us thank our Pick-a-Pooch event's sponsors!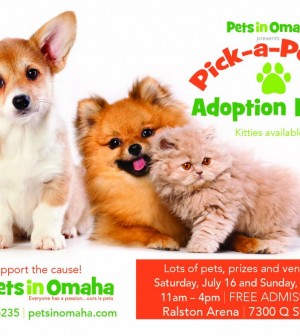 We have been and will continue to introduce or reintroduce you to the shelter and rescue organizations that will be in attendance at our July 16 and 17, 2016 "Pick-a-Pooch Adoption Days" (11 am – 4 pm at the Ralston Arena, 7300 Q Street), but we'd like to also share some of the sponsors who have made the days possible. Check out the promos on our Facebook page and meet the humane organizations that we'll have at the event.
Our first two Adoption Days were single day events (April and September 2015) and tickets had to be purchased for guests to enter. This year, thanks in part to the corporate sponsors you see below, admission is free. You'll be able to enter Ralston Arena at no cost AND you'll meet twice the number of vendors and humane organizations you saw at our previous events. At this point, more than 70 vendors and 20 rescue or shelter operations will be with us. The pet-friendly businesses in attendance will share what they do and why they love pets; the rescues and shelters will have adoptable animals for you to see, pet, adopt, or apply for adoption. They'd also love to gain your support as volunteers or donors.
You won't want to miss the event, and you surely won't want to miss the showing of "Dog by Dog," a documentary film highlighting the money trails that lead in and out of puppy mills across the country. The educational opportunity will help all of us make smarter consumer choices and help animal advocates stop the proliferation of mill dog sales in pet stores, online, and from disreputable breeders.
We hope to see you for the event on July 16 and 17! If you'd like to view the documentary on Saturday evening, you can purchase tickets at this link.
Thanks again to our sponsors for helping us bring the Adoption Days to you at no cost!