Puppy Mill Pipeline Bill to stop tens of thousands of puppies from being sourced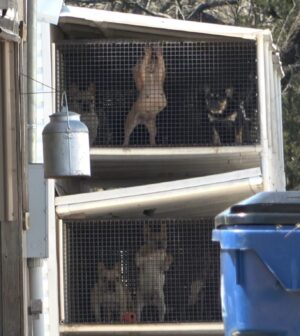 We all understand some of the difficult questions that surround the pet population problem and issues that go with puppy mills. It's hard to get solutions that work, but we're pleased to report stories like this that inspire change. It's been said that the quickest way around a problem is through. We're glad to know folks working in and around humane organizations that are taking things head on.
Below is the latest from Bailing Out Benji, a group whose research has been important to advocating for animals. The news came through email, but you can keep up with the group at its website here.
2022 is quickly coming to an end, but we couldn't let it pass without sharing a whole lot of great news with you! 
Today the Governor of New York officially signed the "Puppy Mill Pipeline Bill" which will prohibit more than 65 puppy-selling pet stores from sourcing puppies, kittens and rabbits from animal mills! The stores have until December 2024 to transition to a humane pet store model, but this will have a huge effect on puppy mills back in the midwest! If you can believe it, each year New York stores import more than 12,000 puppies from puppy mills.
This law comes on the heels of 31 other localities passing similar ordinances in 2022 alone- including Illinois, Clark County NV, Dallas TX and Houston TX. To date, more than 440 communities across the country have passed similar policies that regulate puppy mill sales in stores!
Our research has been instrumental in those successes! With our pet store research and quarterly reporting on USDA violations, we are able to immediately connect problematic facilities to the pet stores they sell through. Policy makers are eager to learn about the puppy mill and pet store problem in their backyard and we are always right there ready to share our data with them!
With each new city or state that goes humane, there is one less outlet for puppy mills to sell through. This year alone we have documented nearly two dozen puppy mills that have closed and even more that have downsized their operations!
We are truly putting an end to puppy mill cruelty in a big way and none of this could have happened without YOU. Having your voice and support in this fight against puppy mill cruelty is invaluable. 2023 is already shaping up to be a big year for the dogs, but with you in our corner, we know that this movement will keep succeeding!

Thank you so much for everything you do for the animals and the people who love them,
Team Bailing Out Benji