Rescue Friends: Harbor of Hope Dog Rescue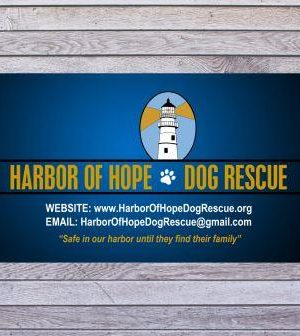 We love the ever-growing pet community we live in and owe a great amount of credit to the wonderful humane organizations we work with and celebrate. The latest to be featured here is Harbor of Hope Dog Rescue, and we're excited to let readers know a bit about the group. Read below, follow Harbor of Hope on Facebook, and get involved if you're able!
First, get to know what the group's North Star is by reading its Mission Statement:
"At Harbor of Hope Dog Rescue, we create a safe place for dogs in need. We provide an environment for them to recover from any physical or mental trauma while learning how to be the best version of themselves. We tend to their medical and emotional needs, develop their personalities, and prepare them for their perfect forever home. Our hope is that every one of our dogs finds their Happily Ever After."
The group offers many things, but focuses on time, place, and loving their pups.
"We are a non-profit dog rescue that is comprised entirely of dedicated and compassionate foster homes ready to provide a safe haven from life's storms. We cannot stop the world from being cruel, but we can offer a safe, loving and restorative place where dogs are protected from the harshness of life and given a chance to recover and heal.
"We offer them time – time to let their guard down long enough to learn how to be loved. We offer them love – an abundance of love to show them that life isn't always about merely surviving. It is learning how to thrive. And most importantly, we offer them Hope – hope that there truly is more to life than what they've previously known."
"We promise to provide them with complete vet care, nutritious food, enrichment and training opportunities all while surrounding them with love and hope. When we look at their faces, we see endless possibilities."
In addition to the words above, Harbor of Hope was kind enough to participate in a little question and answer session with us. Learn more below and find out how you can contact the rescue, donate, volunteer, and more.
Pets in Omaha: When, why and by whom was the organization founded?
Harbor of Hope: Heather Noyes founded HHDR as a non-profit, state licensed rescue on 10/1/2019. All of our board members have many years of rescue experience, and we saw a need to help save dogs in kill shelters, dogs coming from the reservations and dogs being released from breeders. We also have a dedicated parvovirus foster home.
Our board members are Heather Noyes (founder and president), Karen Stiehl Osborn (vice president), Anita Oldham (secretary) and Angela Allen (treasurer). All of the board members were critical in getting the rescue up and running, and they continue to guide the day-to-day operations of the rescue.
PIO: How many people volunteer for your organization?
HoH: We currently have 21 volunteers, and our plan is to keep our rescue small. We want to build a sense of family among our volunteers, where everyone knows everyone, and everyone is active in the rescue.
PIO: How many animals do you rescue, foster and place in a year?
HoH: We currently have 14 dogs in rescue, and we have found forever homes for 12 dogs in the last three months.
PIO: Give us a brief rundown of the kinds of people who volunteer for your group and what they do.
HoH: We have volunteers from all walks of life, both men and women. Some are retired and looking for a way to give back to our community. Some have full time jobs and volunteer their time in the evenings and on weekends. All of our volunteers are very committed to our rescue, and they give us a huge amount of support!
PIO: What separates your rescue from others?
HoH: We are a small, intimate rescue that feels more like family. We operate as a rescue "where every dog is loved and every volunteer is appreciated."
PIO: How can animal lovers in the area help you in your mission? Donations? Volunteers?
HoH: Because we are a fairly new rescue, we can use donations of items that our dogs need on a daily basis (collars, leashes, harnesses, toys, treats, potty pads, food). We also need monetary donations to help with our vet bills. We currently have two parvovirus survivors in our rescue, and their vet care was approximately $4,500. We also need foster homes — people that have the time to bring a dog into their home and treat it like a member of their family until adoption. We provide all food, vetting and other needed items for our fosters. If anyone wants to foster, our volunteer application is on our website (see the link below).
PIO: How can readers follow you on social media and see your adoptable animals?
HoH: Our website is www.HarborOfHopeDogRescue.org, and we are also on Facebook and Instagram (@HarborOfHopeDogRescue).
Thanks to Harbor of Hope for participating in our Rescue Friends series! Be on the lookout for events from the rescue on our Events page.