Roadside Puppy Stand in Omaha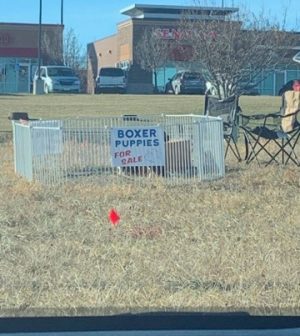 Something popped up in town this weekend that deserves some discussion- a roadside stand that included a van full of puppies for sale from out of town.
Click here to check out some discussion that happened upon folks learning of the puppy salesman. It's a new kind of situation for us, so we're sure it's not a common thing for you to see either.
Most people are commenting by generally saying puppy sales on the side of the road are a bit yucky or that they're wondering about the legality of the sales. It got us thinking about some things, too.
First, we know how many dogs are available for adoption through shelters and rescues in the area AT THIS MOMENT, so it's difficult to justify buying a puppy. Puppy purchasing out of a van on the side of the road? That's especially hard to be okay with. Commenters online say the man selling the dogs reports he's from North Platte or Ashland and the dogs are $650 and they're in a cardboard box. It all sounds nefarious and we hope everyone simply drives on by.
The other thing we're thinking on is the legality. Does he need a permit to sell? Does he need a license to breed? How do we know the pups are okay? Many questions…
Does he need a permit to sell? We're not sure. Maybe the law says he needs to have one to sell it in the particular spot. Maybe it doesn't. It's not illegal to sell a puppy. Does one need a license to breed? Nope. Luckily, the Nebraska Humane Society knows about the van and pups and it's done a couple of wellness checks for us worriers.
Is there anything illegal happening? Not as far as we can tell. Is it morally acceptable to buy/sell animals roadside? Meh. Does it make us feel kind of gross? Yup.
In related news, here are adoptable animals in the area!