Samoyeds find refuge in Omaha after puppy mill seizure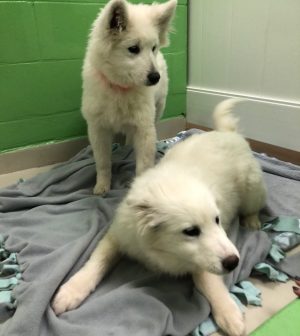 If you've been following local humane news, you likely heard about an ASPCA-aided seizure of nearly 200 dogs from an Iowa puppy mill. Last Monday, according to WHO-TV, the American Society for Prevention of Cruelty to Animals helped deputies rescue 170 dogs at a commercial breeding operation known as White Fire Kennels.
The ASPCA said the dogs, all Samoyeds, were living in filthy, overcrowded conditions and showed signs of neglect. The dogs also didn't have access to clean water.
And when a giant rescue operation like this happens, help is needed from all over to get seized animals to safe spaces to be assessed, treated for the ubiquitous illnesses that thrive in the mills, and prepared for adoption. Four area shelters, including the Nebraska Humane Society, have taken in the mill dogs.
Omaha's Nebraska Humane Society, the largest shelter in the state, received 10 Samoyeds from the ASPCA today, Nov. 20, 2018. Other shelters that have taken dogs from the mill shutdown are in Waterloo, IA, Mason City, IA, and Wichita, KS.
The Nebraska Humane Society received its 10 pups Tuesday afternoon and has been keeping the public abreast of updates throughout the day. More is surely coming and eager adopters will be waiting for healthy checkups, behavioral assessments, and more to be completed so these mill survivors can find forever homes.
Follow the Nebraska Humane Society on Facebook here and Twitter here.
If you'd like to donate to the Humane Society as it continues to care for these pups and about 10,000 others each year, click here.