Scatter Joy Acres rescues dog living under abandoned house for 2 years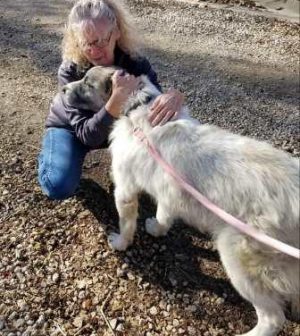 Under an abandoned house's porch in Missouri lived a Great Pyrenees named Grace.
The 10-year-old dog had squatted there for years, reports say. And when Joy Bartling, executive director of Scatter Joy Acres, an animal sanctuary just south of Forest Lawn Cemetery in North Omaha, heard of Grace, she decided to change the dog's address.
Gracious was Grace as Bartling traveled south to rescue her. Scatter Joy Acres will provide a new home where she'll escape hardship. Scatter Joy Acres, its website says, is "A Place of Rescue and A Journey to Peace."
In a recent 3newsnow.com article, we learned about Grace and her new digs in Omaha. Bartling says Grace's medical bills have exceeded $5,000 and included teeth extraction and treatment for what is believed to be BB shot in Grace's head.
Not only is this a heartwarming story, but it's a great opportunity to directly support a rescue effort and dog. If you'd like to be part of the story, click here and donate to Scatter Joy Acres.