Support from Beardmore Subaru facilitates animal adoption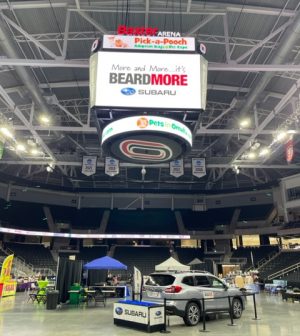 Thousands of people in 2021 and 2022 benefitted from Beardmore Subaru's sponsorship of the Pick-a-Pooch Adoption Days event in Omaha's Aksarben Village, and their exposure to displaced animals led to dozens of adoptions to pet lovers across the Metro.
Sponsorship of the event, which features over 100 area small businesses, animal shelters, and rescue organizations, allows us to host the event in a large, central location where thousands of people and animals meet over the course of a weekend each July.
Beardmore Subaru shares in our desire to build community and advocate for animals, and the years-long partnership has allowed for much community building and animal lives saved through adoption.
Because of Beardmore and the Subaru brand's reputation and dedication to making the world a better place for people and their pets, we at Pets in Omaha are lucky to be on their team, sharing their vision for a better world.
Thanks, Beardmore, and thanks, Subaru, for your continued support and shared mission of adoption advocacy! We are grateful to partner with you at this event (and throughout the year) on our way to bringing people together in the name of animal adoption and community building.