Thanks for Attending the 2019 Pick a Pooch Adoption Days!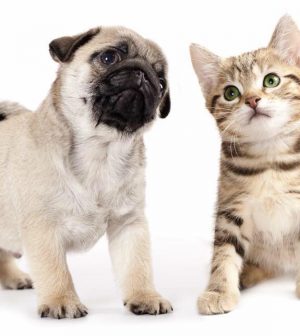 In the span of 30 seconds on Sunday morning of the 5th annual Pets in Omaha Pick a Pooch Adoption Days and Pet Expo, we heard and saw exactly why we hold this event for Omaha's pet community.
While chatting with a volunteer from Midlands Humane Society, one of nearly two dozen humane organizations in attendance at this year's show, we saw two striped and frisky kittens scaling the inside of their crate. "These two are headed to their new home today," the volunteer said. "I told the owners they don't know what they're in for," she added, noting the rambunctiousness of the beautiful kitties. That's the primary reason we keep the event running each year.
And in the middle of our casual conversation, a woman busted into our chat (for all the right reasons). "I just wanted to tell you that we love what you do and that we appreciate it all the time," she said to shelter volunteers. It's that connection we love to see and aim to make. Not just during the two days of the show, but the other 363 days of the year, too.
Midlands sent three animals home to that point. Directly below Midlands, Midwest Dog Rescue Network told us about the heap of applications they were ready to sift through. Across the aisle from that rescue, SOLAS volunteers were saying goodbye to a handful of cats and the lone dog they brought to the show. The Nebraska Humane Society sent one cat and one dog to their new homes Saturday and hoped for more on Sunday.
One difference in the adoption procedures between shelters and rescue groups: shelters can look over someone's application on the spot, make a quick call to the shelter to inquire about any flags on interested applicants, and send an animal home the same day. Rescues don't typically do this. The reasons include that shelters are often charged with a county or city animal control department, making intake numbers unpredictable. Therefore, adoption-ready animals must move a bit faster than with rescues. Shelters also have a finite number of kennels whereas rescues can take in as many animals as they'd like to (and that often depends on the number of fosters available- the biggest need for area rescues). Click here as we talk about what we saw in relation to foster homes at the event.
It'll be a few weeks before we can get a feel for how many animals that came to the event found homes as a result. Often, applications are filled out for one animal, then a wholly different match is made. We may not get an exact number, but we know that it will be a satisfying one.
And something that can't be measured and is as important, is the growth our community makes as thousands of pet-loving people came to meet 135 vendors, shelters, or rescues, on two wonderful days in July.
A huge debt of gratitude is owed to volunteers and arena staff members for helping operationally. Attendees, vendors, sponsors, too. We hope to see you all next year and look forward to providing more information, news, and ways you can participate in our community in the meantime at www.petsinomaha.com. Stay tuned for more success stories from the event and don't forget to check back with us each day as we keep the pet community informed, connected, and growing.