The worst case of matting they've ever seen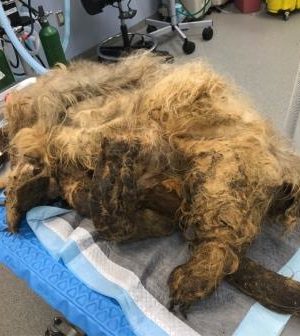 A couple of weeks ago, the Nebraska Humane Society took in a dog- that's not news as it receives about 20,000 animals per year. What's unique (and disheartening) about this case is the condition the animal was in.
"This is the worst case of matting we've ever seen," Pam Wiese said. "We weren't sure what we'd find underneath the incredible stinking mass of hair that covered her. We shaved her down, cleaned her up, and provided some surgery, and the results are really remarkable!"
On Friday, the shelter's veterinarians, its groomer, and the pooch were present for media outlets wishing to tell her story. The feature image above is what the poor girl looked like when she came in.  
And here's a photo of the dog, Ellie Mae, after her care. More photos can be found on the NHS Twitter feed (some are graphic).