Top Tips for a Safe Boat Ride with Your Pooch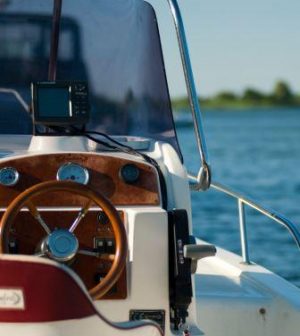 Nebraska is home to four of the best lakes in the United States, making water adventures a popular choice of entertainment for families in the summer. If you have a pooch whom you consider an important member of the household, then you may have thought about taking him on your boating or sailing adventures. Most dogs enjoy refreshing swims in the long summer, but it is important to keep a few handy considerations in mind to ensure your dog is safe and sound throughout your day out in the sun.
Dogs can Get Burned Too
You may not have thought about slapping a little sunscreen on Fido but dogs actually have delicate skin  beneath their fur, and dogs with short coats can suffer from burns if left unprotected. Dogs that are most susceptible to sun damage are those with white fur who love to lie on their backs. Apply a dedicated doggy sunscreen (these are available in spray and lotion form) to the parts of their body without fur – i.e. the tummy, ears, and nose. Ensure you use a vet-approved product.
Taking Baby Steps
Your dog should already know how to swim before heading out into a boat. Whether you are sailing on a large luxury yacht or going full throttle on a speedboat, if there is the slightest chance that Fido can fall off, he should be able to paddle his way through the water comfortably. Start training him in a pool, placing him gently inside the water with your and putting him a few inches away on the shallow end of the pool, calling him to you. As he learns to paddle his way to his destination, move a little farther from him until he is fine with swimming long distances on his own. Your dog should always have a vet-approved safety flotation device on, both in the pool and in a lake or sea. This is especially vital for English  bulldogs and other 'solid' dogs that have difficulty swimming otherwise. Bulldogs can quickly drown in pools and indeed no dog should ever be left unsupervised in a body of water – even a small one like a tub full of water.
Bringing Crucial Provisions
If you will be out at sea all day on a large boat, make sure you have all your dog needs to stay hydrated and satisfied. Your dog can quickly get thirsty while swimming, He should have a bowl and snacks or food on a safe, stable part of the boat. If your dog feels like 'going', he should also know how to use an indoor dog poop pad. This may take training but will definitely be worth it if you will be taking a long sailing trip and you simply cannot walk your dog for a full day or longer.
Ensuring Your Dog is Happy to be Out in the Water
Each dog has its own personality. Some are super adventurous and love nothing more than a day filled with adventure. Others panic at loud sounds such as those a speedboat might produce. Still others may be more fragile and less likely to weather the heat or activity levels required by sailing. Think about whether sailing is the right match for your dog; he might do better resting in a cool home and enjoying a nice long walk with you after your sailing adventure.
Dogs who are young, healthy, and sprightly usually enjoy being out in the water. Make sure they are accustomed to swimming, and that they do not even board the boat without having a well fitting flotation vest on. Don't allow your dog in the water alone; make sure you are close by in case there are currents or any other circumstance that may cause fear. Finally, ensure your pooch doesn't get burned by applying onto exposed areas of skin. A lovely nose balm as after-sun care will go down well with your pooch, who will probably give you a lick of approval.