Twins passionate about pets turn love for animals into thriving business
Charisa Antigua and Carmina O'Connor of CocoTherapy are twin sisters who've channeled their passion for pets into two successful businesses. Read about them in an article by pet writer Richard Rowlands here.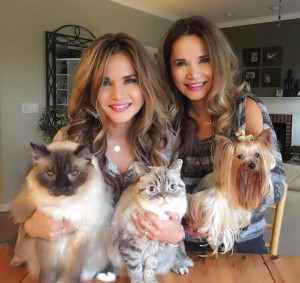 Charisa Antigua and Carmina O'Connor know a thing or two about coconut oil. It's been a big part of their family for three generations, and the inspiration behind a thriving business that's committed to sharing its health benefits.
Growing up in the Philippines, Charisa and Carmina watched their grandmother make coconut oil in her small kitchen, using only the freshest coconuts sourced and harvested from the family plantation. The sisters grew up with a knowledge and understanding of the potent healing power of coconut oil, and the meticulous attention to detail that goes into extracting the purest, most nutritious oil from the highest quality coconuts.
In recent years, the health benefits of coconut oil have become more widely known in the US. But it's not just people who can benefit from its healing properties. "We started CocoTherapy 9 years ago because of our Yorkie named Violet," explains Charisa. "At only a year old she had developed severe allergies. Not wanting her to remain on steroids prescribed by our vet, we decided to treat her condition with our family coconut oil brought back from the Philippines. Within a few weeks we saw that her skin was less inflamed and she stopped scratching."
With their knowledge of coconut oil, the sisters knew that the high Lauric Acid content in their therapeutic-grade oil was responsible for the miraculous improvement in Violet's condition. After running out of their own supply of the oil, they discovered that store-bought coconut oil lacked sufficient levels of Lauric Acid to treat the condition. The problem, as the sisters discovered, was that the coconut oil being sold in grocery stores was cooking-grade rather than therapeutic-grade. These oils are suitable for cooking, but lack the properties responsible for so many of coconut oil's health benefits.
Unable to find a therapeutic-grade oil that matched the quality they'd grown up with, Charisa and Carmina founded CocoTherapy in 2009. Their aim from the beginning was to create the very best coconut oil and coconut-based products that are highly effective at treating chronic and acute health issues in pets.
The company's therapeutic-grade coconut can be applied topically to treat skin problems, fight infection, and repel ticks and fleas. It can also be given orally for a wide range of health benefits including improved metabolic function and brain health, enhanced immunity, and better digestive health. "Being from a third-generation coconut producing family, it was only natural that we offer our coconut oil to others and create products using coconuts and other ingredients we love. Our mission is to create safe, all-natural products that people trust and feel good about giving to their pets," Charisa says.
The philosophy of their grandmother is the foundation of every CocoTherapy product the sisters produce today. All of the coconuts the company uses are sourced from their family-owned USDA organic-certified coconut plantation in the Philippines. They remain on the tree for a full 12 months before harvesting, and are processed in a private facility just 4-6 hours later. This ensures that the finished product is rich in nutrients, and of the highest quality possible.
A big part of the problem of choosing a high quality coconut oil is the confusion surrounding the labeling of products. Claims such as "cold-pressed", and "organic" are prominent on coconut oil labels, but they often fail to tell the full story. Unlike other brands, CocoTherapy coconut oil is true cold-pressed. This means that it's never extracted using heat. It's also 100% organic – other brands can still carry an organic seal with up to 10% non-organic ingredients. In fact, CocoTherapy coconut oil is the only product of its kind that's sold as a therapeutic supplement and backed by a Certificate of Analysis, and approved as a therapeutic supplement from the Food and Drug Administration. It is also the only virgin coconut oil available to pets that is Non-GMO Verified.
This attention to detail is what's earned CocoTherapy the trust of its loyal customers. The company prides itself on offering safe, natural products that give pet owners a viable alternative to strong drugs and chemicals. "CocoTherapy customers tell us that they trust our products and appreciate the love and attention we put into every item we make," says Charisa.
As well as therapeutic virgin coconut oil, CocoTherapy offers a range of healthy coconut products for pets. These include coconut chips, training treats, cookies and macaroons, and a hairball remedy for cats made with high-fiber organic coconut. "We use only the best organic ingredients we can find. Not only do we focus on ingredients, but we strive to create treats that are truly delicious – treats that pet owners will want to share with their dogs too! All our products are USDA Certified Organic, gluten-free, vegan (using no dairy or eggs), low-glycemic and human-grade and ridiculously delicious!" explains Charisa.
But CocoTherapy is not the sisters' first success within the pet industry. Back in 2003 they founded Oscar Newman Luxury Pet Couture, a fashion house for discerning pets and their owners. Charisa and Carmina started Oscar Newman after visiting an independent pet boutique. They quickly realized the potential for growth in the luxury pet market. "At the time pet boutiques were uncommon. And even more rare were unique, luxury items for pets. So, with our inherent love of dogs and fashion, the light bulb just went off – we wanted to create beautiful, unique fashion pieces and accessories that were unlike anything else available," Charisa explains.
As with CocoTherapy, the attention to detail that goes into making Oscar Newman products is what sets the company apart from its competitors. "Our passion for elegance and stunning detail is apparent in every individually hand-embellished creation," explains Charisa. "We put a lot of thought and care into choosing the fabrics, crystals, and embellishments for our clothes and jewelry. Our designs include special hand-dyed fabrics and yarns, custom appliques, original embroidered designs, and hand-sewn beading. All embellishments used in our designs are created in-house and never purchased off the shelf, she adds."
The Oscar Newman product range features dresses, sweaters, and coats, as well as other luxury items including jewelry, and toys. "Each item of clothing requires numerous of hours of labor, as each piece is touched by multiple artisans who have specific skills in either hand-beading, hand-smocking, or hand-crocheting. There is no other brand of dog clothing that offers the level of hand-embellished design we do," says Charisa.
But all this hard work has paid off for the sisters. The products have gained a loyal following, and have even been spotted adorning the pets of celebrities such as Britney Spears and Paris Hilton. "Aside from the numerous letters we receive from customers, perhaps the best feedback we receive is through their actions. Oscar Newman customers wait for every new collection we release, and purchase multiple items for each of their fur-kids. We even have customers who collect our hand-smocked dresses," Charisa says.
So, what does the future hold for the business-minded twins with a passion for pets? With two successful companies under their belts, Charisa and Carmina are turning their attention to helping pets in need. "We recently created a program called "Violet's Friends in Need" (VFIN), a fund designed to help pets and their owners by providing financial assistance for urgent or critical veterinary care. VFIN is funded by a percentage of proceeds from CocoTherapy products and our accessory line, Oscar Newman. Each time someone purchases CocoTherapy or Oscar Newman products, they're helping an animal in need of critical veterinary care," Charisa explains.
"In addition to Violet's fund, we believe that social responsibility and support for all animals is an important part of our mission. CocoTherapy regularly donates to several animal welfare groups and shelters. It has always been our ongoing objective to make a significant difference in the lives of less-fortunate animals," she adds.
For more information, or to place an order, please visit the CocoTherapy and Oscar Newman websites. CocoTherapy and Oscar Newman products are also available from independent pet boutiques and on Amazon.  If you have a pet or know of someone who needs financial assistance for veterinary care, visit the website to learn more about the VFIN program. 
About Richard Rowlands
Richard is a writer and marketer for the pet industry, and a keen pet enthusiast. He works with pet businesses to improve their marketing and increase profits. To find out more, please visit his website.