Update on Mermaid Cat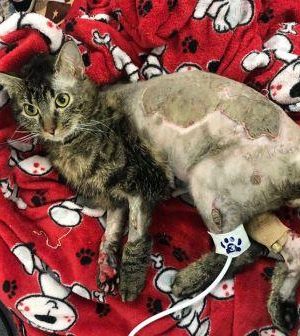 Remember the adorable and amazing kitty at the Nebraska Humane Society that was burned in a house fire, brought to the shelter, and had wounds repaired using fish skin? The shelter has provided the media with an update on his condition!
King the cat is somewhat of a miracle. During another procedure this week, vets at the shelter found new tissue growing upon removing some of the fish skin used to repair his burns.
That's great news, but King isn't all clear yet. The process is a long one and the number one priority is keeping infections from developing. The shelter is optimistic that the procedure, originally used at a California University, will end up being a success here in Omaha.
Click here to follow King's progress and stay tuned for (hopefully) more good news!