An Update on Popsicle the Cat!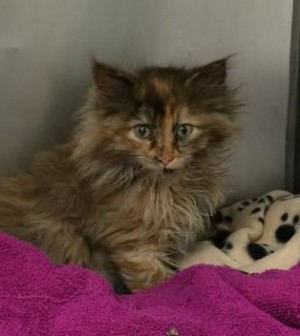 Yesterday, the Nebraska Humane Society sent us a news blip- construction workers had found a small kitten (a tortoise-tabby mix) who had been in the cold for a little too long. The workers brought her to the Nebraska Humane Society as soon as they could.
"Popsicle," or "Pops" as Pam Wiese of the Nebraska Humane Society calls her, has frostbitten feet, a frosty tail and a leg that will likely be amputated. She is, however, and I can say this from seeing her today, very loving, very accepting of her care and SUPER cute. She'll be in the medical portion of the Nebraska Humane Society for a couple of weeks, then will be available for adoption.
Although we love little Pops, we'll leave it up to the NHS to provide updates on the keeter from now on. In the meantime, see the two pictures below I took from seeing her today in the medical facility.