Meet Pick a Pooch Vendor, Barkuterier, Frenchie mom and breeder, Sarah O'Callaghan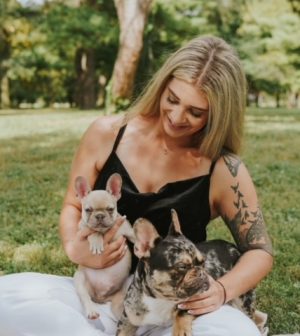 If you plan to attend the 2022 Pick a Pooch Adoption Days and Pet Expo at Baxter Arena, you will likely meet Sarah O'Callaghan, a general Renaissance woman and CEO of 402 Frenchies. The small business owner specializes in breeding AKC French Bulldogs and serves up cleverly-called "Barkuterie"- Charcuterie for dogs. That's not to mention her three pups and boy and girl twins , making her plate plenty beautiful and full.
In another post on Pets in Omaha, you can read about her French Bulldog breeding and find her as an example of the reputable breeder many seek as an alternative to buying adoption or pet store pups. Here, we'll tell you a bit about her dog nutrition goals and Barkcuterie, plus ways to get in touch.
On the dog vittles side, Sarah believes in proper dog nutrition so that dogs can live longer, healthier lives. That's why the Barkcuterie plates she procures are human-grade goodies that feature the raw diet supplemented with fresh fruits, veggies, and other natural ingredients like goat's milk and bone broth.
The food is not only healthy and natural, but it does a lot of good for allergens that cause trouble for many Frenchies. Most French Bulldogs are allergic to poultry, for example, so Sarah feeds her dogs lamb. Sarah also supports local and buys her dogs' food from natural pet food stores like Long Dog Fat Cat and The Green Spot. She also buys her treats from both and local dog treat makers such as Brixtix Bakery and Love Yo Pup.
In addition to shopping locally, Sarah's pup Breccan frequently models for Ripley and Rue, a local dog appeal business here in Omaha. In the Farmer Market's season Sarah buys all local produce as well as works with a local Farmer in Raymond, NE that supplies fresh quail eggs. Another great dietary source for dogs. Sarah focuses not only on educating the community but giving back to the community but keeping everything local.
She's also mindful of what her pups drink. To help with tear stains in her dogs' wrinkles, Breccan, Cash, and Denali drink filtered water in stainless steel or ceramic bowls. Plastic bowls scratch easily and can harbor bacteria but can also release harmful chemicals into food and water. Metal bowls can rust and release iron oxide. Each dog is also bathed one-to-two times per month, nails are kept trimmed and manicured, and wrinkle folds are cleaned daily to help with the build up of yeast which can cause redness and irritation.
The knowledge of nutrition and the breed standard come together in her breeding and feeding businesses. Whether you're looking for a special treat for your pups, direction on a diet that could benefit your dog's health, or wondering about the french bulldogs she breeds, there are many ways to get in touch with Sarah and 402 Frenchies.
Looking to order a bit of Barkcuterie? Fill out an order here.
Follow on Instagram here.
402 Frenchies can be found on Facebook at this link.