What Type of Pet Owner Are You?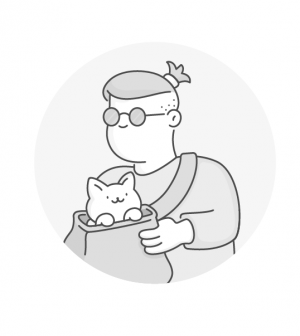 If you are a new pet owner, congrats on embarking on a journey of a never-ending bond. As your bond develops over time with your pet, there will be many ways that you will learn to care for them, how to show them love, and the best tactics to manage them. All of the practices you decide to implement may be different or similar to how another pet owner functions with their furry friend.
Here are three types of pet owners and their traits to figure out which one you may be.
1. Newbie Nyomi
Being a first-time pet owner can be challenging yet rewarding. You spend a lot of the day focused on your pet's health and wellness, and getting to know your furry friend. What food will be best for them? Should you consider microchipping them? Or who's going to train them? Those are a few questions that will probably come to mind as a newbie. You may find yourself doing your research even before bringing your furry friend home, like reading the latest pet tips and hacks. As a new pet owner, prepare yourself for playdates after playdates are lined up on the calendar. While having a new pet can be exciting and will have you buying items of things for it, be sure to know your budget.
2. Spoiler Sayuri
Have you ever been on a walk and passed by a neighbor being dragged by their dog down the block? Or what about those dogs that lunge at anything that walks by? That dog is probably spoiled and has had no real rule structure. Getting attached to your dog is one thing but spoiling them is a whole new ball game. Of course, you love your pet, but spoiling your pet involves giving them anything they want, even while ignoring bad behavior. If you are this type of pet owner, your animal will never hear "no" from you. As a pet spoiler, your mindset is "what's mine is yours," even when it comes to sharing from your plate with your pet. Take a look around your home, before you know it, more than half of the space will belong to your pet.
3. Selfie Saad
With social media being a part of just about everything these days, it may be hard not to be this type of pet owner. If you know you can't keep the camera out of your dog's face, you are indeed a selfie Saad. Often, you will find yourself sending updates of your pet's every move or matching with your pet every day in a new outfit.
The biggest trend in recent years has been making pets their own social media profiles in the hope of them becoming an influencer. If your pet's page does happen to bring in a lot of attention, it can be lucrative and fun to interact with other dog lovers worldwide.
Pay attention to your traits and see which type of pet owner you are. If you don't know where to start, check out this
infographic below.