2013 Walk for the Animals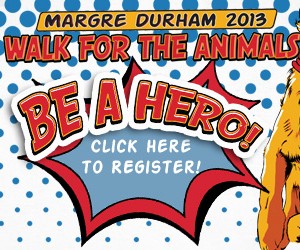 As a new contributor to the Omaha pet community, we'd like to spread a little love and help the Nebraska Humane Society (located at 89th and Fort) promote their biggest event of the year- the annual Walk for the Animals.
On September 29, 2013 from 8:30 a.m. until noon, the NHS will host their event for for the pet people and their animals all over the area. To this point, the Society has raised over $172,000 and we hope we can help them increase their fundraising in order to provide the premium and philanthropic services they give us all year round.
Here's some important information from the NHS Web site that you'll need to know in order to participate:
The Walk for the Animals is quickly approaching, so we thought we would provide you with some helpful information to make attending the Walk for the Animals on Sunday easier.
Early T-Shirt and Prize Pick-Up
If you've registered online or would like to register in person consider picking up your Walk T-shirt and prizes early! Early pick up happens Thursday- Friday from noon – 7 p.m. or on Saturday from noon – 4 p.m. in the conference room at the Nebraska Humane Society located at 8929 Fort Street in Omaha.
Day of the Walk Admission Fee
Remember there will be a $10 admission fee on Sunday for adults and children 10 and under will be free. If you have registered online you won't have to worry about paying this $10 fee.
Confused about registering for the Walk for the Animals?
If you have questions about how to register for the Walk for the Animals please click here.
Stop by the Pancake Man
The Pancake Man will be serving pancakes from 8:30 – 11 a.m.  The cost for pancakes is $6 if you haven't registered online and want to pay your admission fee and pancakes the fee is $15.
Buying a Walk T-Shirt
If you didn't register online and would still like a Walk for the Animals t-shirt they will be available for purchase on Sunday.
Parking and Shuttle Buses
For information about parking the and shuttle buses please click here.
For additional Walk for the Animals information please click here.
 
2013 Walk for the Animals Mascot
This year's Walk for the Animals Mascot is Gracie who was an incredible companion, alert and intelligent. To learn more more about Gracie and how your dog can become next year's Walk Mascot click here »
 
New This Year
New this year- our Walk for the Animals website is more mobile friendly! Donation forms and the registration pages have all been optimized to look great on your iPad, iPhone or Android device!
The weather looks to be great at this point, so make sure to get out and support one of our partners in Omaha's pet community. Don't forget to check out events page for more get-togethers like this, but more importantly, don't miss this one. We'll bring you some great highlights and photos from the event, so check out our Web site if you can't make it out Sunday morning.