A Note to You, our Readers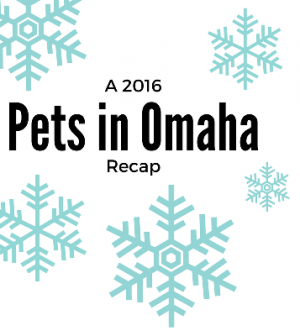 As the year comes to a close, we at Pets in Omaha would like to say thanks to all our readers, sponsors, local shelters and rescues, and anyone else who has helped make 2016 another great year for us.  Whether you've recently found out about www.petsinomaha.com or you've been a reader since we launched in late 2013, we're grateful you've let us tell stories, highlight events, spread news, and shine a light on those who help improve the lives of companion animals in and around Omaha.
Here's a list of some of the things you helped us accomplish in 2016:
Nearly 200 original informational and news posts were published on www.petsinomaha.com.
Our July Pick a Pooch Adoption Days brought over 7,000 visitors to Ralston Arena where over 100 booths housed area rescues, shelters, pet-friendly businesses and pet service providers. We were also able to screen the documentary film Dog by Dog as part of the event. Read a recap of Pick a Pooch here.
We launched a new non-profit, Kirby's Hope, which will promote humane education and assist rescues, shelters, and needy members of the pet community.
Our October Shelter Aid Donation Drive collected $1,500 worth of supplies for the Nebraska Humane Society, Town & Country Humane Society, and Midlands Humane Society. Read about the donation drive here.
In 2017, we will continue to bring you news and information related to the pet community, we'll be adding new features to the website, and we'll be expanding our outreach efforts including our fourth Pick a Pooch event.
Thanks for being a part of our success in 2016! We hope to see you again and again next year!