2017 Pick-a-Pooch Success Story – Senior Adoptions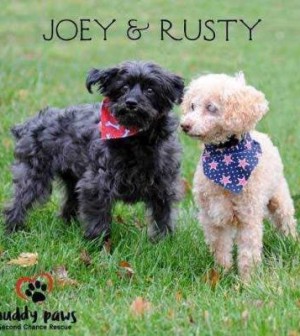 So many animals came to Pets in Omaha's Pick-a-Pooch Adoption Days with hopes of finding forever homes. Eventually, all of them will find what they are looking for, though it may take some time. One dog in attendance, for example, has been in rescue for over two years. Others get scooped up quickly. Whichever way it goes, we're grateful for rescuers, adopters, and everyone else interested in supporting the pet community here in Omaha.
One tale of success we can tell already, just days after the event, is especially satisfying. Three senior dogs from Muddy Paws Second Chance rescue have a final home and we're so glad to tell their story here.
Karen Kocourek was in the market for a new dog. Or maybe she wasn't. Either way, after losing her 16-year-old Poodle, Armani, a short time ago, she "had a hole" in her heart. "I didn't believe I could do this again," she says, but when she saw the advertisement for Pick-a-Pooch, she thought she would just go. "I really didn't tell my husband what we were doing though I think he suspected."
While the Kocoureks waited to enter the arena, she saw a little poodle come in.  Karen told her husband she wanted to find the dog inside. "I believe Armani was giving me a sign it was okay to love again and help a sweet little guy in need of a home and love."
When she found Muddy Paws Second Chance rescue and little Rusty, Karen learned he had a buddy and they were very attached- Joey. Their owner had passed away with no one left to keep the dogs, so they found their way to rescue. "I was instantly in love," she says.  "I had thought about a pair because I believed it might be easier on them to adapt to a new home. I hurried home thinking  I would try to adopt two and, lo and behold, while filling out the adoption application for Joey and Rusty, she found a third poodle named Riley on the Muddy Paws site. "He had such a sad story of being found all the way down in Louisiana; he had this beautiful little smile. Karen thought, what's one more? We can do this!
Rusty is 15, Joey is 10, and Riley is 9. Karen and company is having the time of their lives. The dogs are very laid back, only want to please, and only want to be loved in return. Joey and Rusty have waited for a home since February 2017. Riley has been with Muddy Paws since August 2016.
On whether you should adopt like she did, Karen says that if anyone is considering adopting, do it. "You will be loved and repaid a million times over! I can't wait to see what adventures tomorrow brings!"
To this point, just four days out, we know of ten rescue dogs who have new homes. A ton of applications were filled out by show attendees and we're sure many more adoptions will be completed in the coming days and weeks. Stay tuned for more follow up stories on Pets in Omaha's Pick-a-Pooch Adoption Days!