40 dogs on their way to Omaha after rescues save them from death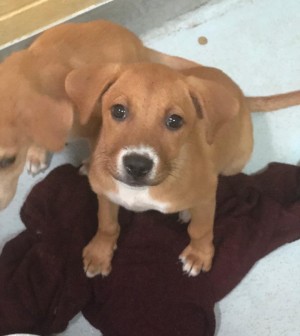 When a shelter is full, tough decisions about the animals inside must be made. And especially in shelters that are city-run and charged with animal control in their area, the decision is often euthanasia. Irresponsible pet ownership, overpopulation, and a lack of shelter space can be cited in this case, but the reasons why so many animals are being put down are difficult to change as any animal advocate can tell you. What advocates can do, as seen in this situation, is come together to save animals running out of time.
Late last week, Muddy Paws Second Chance Rescue was contacted by a volunteer with Tulsa Animal Welfare Shelter about a terrible overcrowding situation at the city-run shelter in Tulsa, OK. The shelter had been euthanizing 20-30 dogs per day recently because it had no space for new strays to come into the shelter. As awful as this sounds, shelters are often faced with similar problems as a result of overpopulation.
The staff and volunteers at the shelter were sick about what they were having to do. They reached out to rescue groups around the country asking them to take as many of their dogs as they could. Although all their foster homes were full, Muddy Paws knew it had to help.
Volunteer Kelly Cantrell began reaching out to rescue groups across the region and secured commitments from Little White Dog Rescue (Omaha), All Hounds on Deck (Lincoln), Midlands Humane Society (Council Bluffs), 4 Luv of Dog (Fargo, ND), and Mending Spirits Animal Rescue (Mankato, MN). This incredible team came together to find foster homes for 40 of the Tulsa dogs. The dogs will be arriving in Omaha Saturday.
"When we put out the call for help animal lovers came out of the woodwork to apply to foster dogs or donate funds to be used for vet bills," said Terri Larson of Muddy Paws. "That's the only reason we have been able to make this first wave of rescue from Tulsa happen. We couldn't have done this with just our current volunteer force."
Amber Shepherd of Little White Dog Rescue pointed out that her group is always happy to help get dogs out of shelters and into foster homes. She will be fostering Dana, a dachshund mix puppy.
Since Sunday, the Tulsa shelter has taken in 143 new animals. It is required to hold strays that come in for several days to give owners a chance to claim their pets. That means dogs who were surrendered to the shelter by their owners or whose stray hold is up must be put down to make room. The majority of the dogs who are being put to sleep are less than one year old. The shelter director reports they have had to euthanize about 70 percent of the animals in the shelter recently.
"Knowing what our rescue partners in Tulsa are going through is heartbreaking. We want to do anything we can to help. We're in this for the long haul," said Kandi Bremer of All Hounds on Deck. The rescue will be taking five of the dogs coming from Tulsa into their program. "We plan to help whenever we can as the Tulsa shelter works to save these animals by moving them to other rescue agencies."
The team is planning to continue working with Tulsa Animal Welfare with future transports of dogs to the Midwest and they hope to enlist the help of other rescue groups in the region. For those who want to help now they are asking for donations of money and supplies such as high-quality puppy food and harnesses for medium and large dogs. More foster homes are also needed.
"Tulsa is a city that has tried to do everything right to prevent this sort of thing. They have three low-cost spay/neuter clinics in the city and a law that requires pets to be sterilized. But still their shelter is full of puppies no one wanted to begin with. They work extremely hard to get animals out of there but they are fighting an uphill battle against the onslaught of unwanted litters from irresponsible dog owners," said Lorie Jenkins of Muddy Paws. "This has to stop."
To donate or apply to foster a dog, visit the websites below from the rescue groups currently accepting animals from Tulsa. Also, click here to see many of the animals who will need foster and forever homes upon making it out of Oklahoma.
Muddy Paws Second Chance Rescue (Omaha/Council Bluffs)
www.MuddyPawsSecondChanceRescue.com
Little White Dog Rescue (Omaha)
All Hounds on Deck Rescue (Lincoln)
Midlands Humane Society (Council Bluffs)
4 Luv of Dog (Fargo, ND)
Mending Spirits Animal Rescue (Mankato, MN)
Thanks to Lorie Jenkins of Muddy Paws Second Chance Rescue for helping Pets in Omaha tell this story and ask readers for help.