Help the Animals: Project Humane Nepal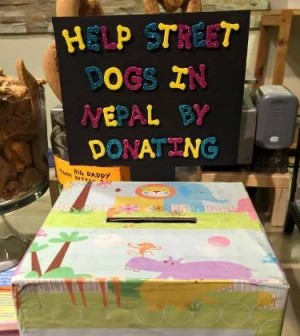 We all do what we can to help companion animals and pets in our community. We all want to make an impact, especially on those who need the most. This story gives us all a chance to help a UNO student care for animals in need halfway across the globe…
Imagine dogs being kicked, hollered at and abused in the streets, This is what Angeela Shrestha, graduate student at the University of Nebraska at Omaha, sees back home in Nepal. In Kathmandu alone, there are more than 25,000 stray dogs.
How could this number get so large? DogsAreFamily, an animal advocacy group with special knowledge of dogs in Nepal, says that Nepali people love dogs too much, aren't educated on controlling pet populations and there is no country-wide control system to handle all these strays. There is no government policy or agency in charge of "how dogs should be handled properly" and no policy on adoption or vaccination in Nepal. It's clear that these things contribute to the problem.
"Living in Kathmandu, Nepal, seeing a stray dog is inevitable," Shrestha says.
Seeing malnourished animals being mistreated by her people is a problem for Shrestha. It's no excuse, but the people of Nepal are severely undereducated on the humane treatment of the vast population of stray dogs in Nepal.
"I've seen dogs out on the streets as long as I can remember," Shrestha said. "These dogs are mistreated, kicked, feared, ignored and even scorched by boiling water by many. They are hit and killed by motorcycles, cars and trucks."
Shrestha said it's rare to see Nepali people who feed or care for the dogs. It is, however, common for people and children to throw stones at them.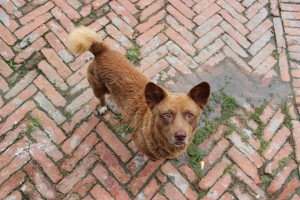 "The government often poisons stray dogs to keep the dog population in check, and I've seen dogs die after hours of suffering."
While these dogs are abused and killed, animal rights activist groups want to love these dogs instead. Organizations such as DogsAreFamily Nepal and Bhaktapur Animal Welfare Society are dedicated to educating themselves and the public about humane treatment of these dogs. These groups care deeply about animals and are made up of volunteers whose mission is to help rescue these dogs and get them the care they need. These are the only voices for the street dogs of Nepal.
There are nearly 30 million people living in Nepal and more than 700,000 in Kathmandu. The country's people can be sentimental and respectful to the dogs, but with so many uneducated people, these practices are not carried out on a daily basis.
"People are undereducated about the humane treatment of dogs because of the economy and no solution for the unwanted puppies that are produced every year," said Dr. Pranav Raj Joshi, founder of Bhaktapur Animal Welfare Society. Dr. Joshi suggests that people everywhere can and should do their part to help animal communities. This includes administering rabies shots, helping to control the pet population by spaying and neutering animals, and also providing support to groups that treat sick and injured dogs.
Shrestha knows there is a severe lack of education. Shrestha wants the inconsistency to change. She wants the killing to stop. She has a plan to change these things.
Check out this video from the gofundme.com site dedicated to Project Humane Nepal. 
Shrestha wanted to initiate a small project after working in a Nepal rescue shelter last summer. In November 2014, while studying at UNO, she decided to apply for the Clinton Global Initiative University (CGIU) by sending a detailed project outline and timeline.
Her project got accepted and was acknowledged at a CGIU conference. From there, she was able to narrow her focus to animal welfare education and Project Humane Nepal was born.
"After I came back from the conference, I started organizing the project from building a small team, to creating a social networking page, planning and organizing fundraisers, and so on," Shrestha says.
Shrestha is leaving for Nepal in May and will return in August.
While there, she, two other students and a Nepali veterinarian, will be visiting 20 schools to educate children about street dogs and pet ownership. She will have the students participate in activities that focus on safety and making caring connections with street dogs. Shrestha has also organized a weekly free health camp for street dogs in order to raise awareness in the community and provide care to injured dogs. The camp will be located on a piece of public land.
Shrestha is in need of supplies to take with her. Indre Seibutyte, co-owner of Long Dog Fat Cat, a pet health food store in Omaha, is helping her by hosting a fundraiser and donation drive this Sunday, April 26, from 12-4 p.m. Long Dog Fat Cat will collect donations at its Village Pointe location, 16909 Burke St. in Omaha.
Supplies needed
• Flea and tick control (Front Line brand)
• Anti-bacterial wound cream/lotion
• Ear and eye cleaner
• Gauze sponges and bandages
• Latex Gloves and Q-tips
• Soft muzzles and hair brushes
• Anti-bacterial wipes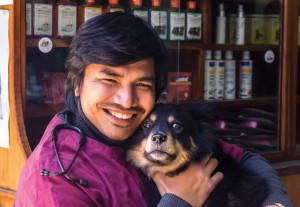 There is a donation drop off box throughout the entire month of April at the store, so supplies can be dropped off anytime. Monetary donations can be brought to Long Dog Fat Cat or Tanduri Fusion restaurant located at 2537 S. 175 St. in Omaha. Online donations can be made online at http://www.gofundme.com/projecthumanenepal. Also, donations are accepted through PayPal on the Project Humane Nepal Facebook page.
With only a couple weeks left before she departs, Shrestha is getting anxious and does her best to prepare for her trip. Her hope is to make a lasting impact. Even though she will be returning to Omaha in August, she has plans to stay in contact with the others that will be staying in Nepal.
"Through humane education intervention, my goal is to bring positive changes in children and adults' attitude and treatment towards street dogs and pets, to have a long term impact."
What a great endeavor and a truly caring person we've met in Angeela Shrestha. If you can, please consider donating to this cause and help her make a difference in the lives of thousands of dogs in need.