5th Anniversary Series: a look back at a 2013 holiday miracle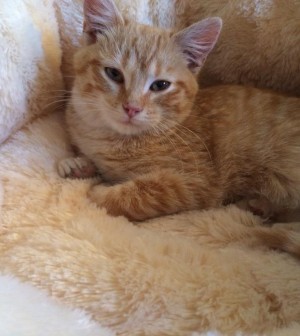 In celebration of our 5th birthday, we're highlighting five stories this month that speak to who we are as a resource for pet lovers and opportunity for advertisers. Please enjoy this and upcoming posts in our Fifth Anniversary Series, brought to you by one of our wonderful community partners- ComeSitStay.
The third article in our 5th Anniversary Series sponsored by ComeSitStay includes the story of a kitty who, after being thrown from a moving car on Dodge Street in Omaha, healed up at the Nebraska Humane Society and was later adopted by, coincidentally, a friend of ours, Andee Hoig of Metro Magazine! This story is among the best performing stories for us to date because, it seems, animals in trouble are always of interest, especially when they're saved by local animal lovers and advocates!
Read about the kitty (who became Benny) and his tumultuous road to his current loving home in this post from December of 2013.
For the first story in our series, which highlights Pet People like legendary Husker radio voice Kent Pavelka, click here.
And for the second in the series, an example of how we can activate the community to benefit humane organizations like Clinton, IA's Humane Society, click here.
In the next week, you'll see posts number four and five from our 5th Anniversary Series! Stay tuned and help us celebrate ending our fifth year and starting our sixth. Thanks to ComeSitStay, our readers, and all of our sponsors who have helped us thrive for half of a decade!