77 surrendered from Iowa breeder. Help support their rescuers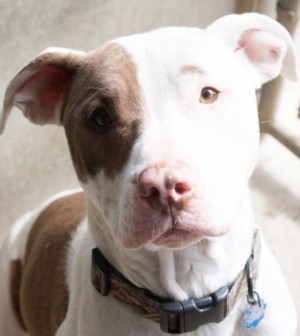 As we came across this story today, there are two big takeaways to share:
1. There are an unbelievable number of people working every day to help displaced, abandoned, or homeless animals all over our area. This particular situation let's us tell you about two groups located between Omaha and Des Moines, AHeinz57 Pet Rescue and Transport and PAW Fort Madison Animal Shelter. 
2. There are many homes all around us where conditions are not fit for animals. In this case, dozens of dogs were living in deplorable conditions which resulted in mild or severe medical problems. If you have any suspicion or knowledge of a place which sounds like the one Amy Heinz talks about below, please contact your local animal control office. It's better to be safe than sorry.
According to the Des Moines NBC affiliate, WHO13, nearly 70 dogs that belonged to a now-deceased breeder in Burlington, IA have been transferred to the care of a shelter in Fort Madison and AHeinz57 Pet Rescue and Transport. The rescue, which took 40 of the malnourished dogs, has worked with some of our Iowa friends including Mindi Callison of Bailing Out Benji. The PAW Facebook page (link above) indicates that 77 in total were rescued.
The breeder's family surrendered the animals to the shelter and rescue; nearly all of the dogs have problems with eyes and teeth. It goes without saying that visual and dental problems are likely not the only concerns for some, if not all, of the dogs. Amy Heinz of AHeinz57 said in the WHO13 article: "…there were dogs on the table, on the stove, in bowls and everywhere. It's sad that homes can get in that condition and there can be that many dogs at home and nobody knows."
In cases like this, though the animals affected are nearly two hours away, we like to not only report on the good that's being done to help the neglected animals, but encourage readers to help in any way they can. And as the dogs are over a hundred miles away, it's likely that some of them will end up in homes near Omaha.
And as AHeinz57 is a special kind of rescue organization, here's a bit about them from their website:

AHeinz57 Pet Rescue & Transport, Inc. is a 501(c)3, non-profit, foster-based animal rescue organization, headquartered in De Soto, IA. We are a unique rescue organization in that we exist mainly to bridge the gap between traditional animal shelters and no-kill rescues in 2 different ways: 1) By providing free transportation for dogs from traditional shelters to no-kill rescues all over the Midwest and Canada. We also provide overnight rest stops for our furry travelers and temporary housing for those whose time has run out at the shelters, but have to wait for a foster spot to open up in one of the rescues; 2) By pulling dogs out of traditional shelters that are on death row and placing them in foster homes and forever homes thru our organization.
Extra donations are always needed in cases like this, whether they be monetary or material. Typically, more foster homes are needed, people are needed to transport animals, and extra cash is necessary to take care of vet and grooming expenses the shelters and rescues take on. You can help AHeinz57 take care of these animals and others by satisfying their Wish List, which can be found here.
AHeinz57 gives monetary donors a number of ways to choose how their money is used. They include covering an adoption fee, a memorial/honor donation, and others. If you'd like to donate, click here.
If you'd like to find out how else you can help, call AHeinz57 at (515) 207-3233 or contact them here.
If you'd like to donate to PAW Fort Madison Animal Shelter, click here.