Can you help find Foltz his forever home?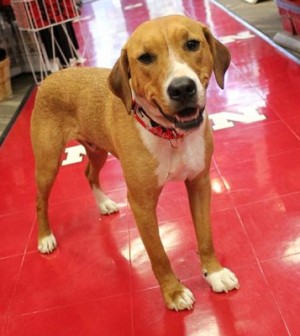 Sometimes, animals are in rescue for too long. When we catch wind of any of these cases, we love to help spread the word about how much an animal needs its forever home. Meet Foltz.
The name should sound familiar to anyone in Nebraska, especially football fans. Our rescue pup here is named for Sam Foltz, the all-time great punter for the Cornhuskers. The dog Foltz has been in rescue for over a year and that needs to change!
"Foltz is a very sweet, kind of mischievous boy," says Debbie David of Hands, Hearts, and Paws Rescue (HHP) where he's being fostered. "He loves walks and some other dogs. He's probably best in a home with no cats.  He is an avid hunter and loves catching critters outside." A couple of other notes for potential adopters: He would do best with a secure taller fence as he can easily jump a baby gate.  Foltz is great with kids, but will chew up their toys. If that's the worst thing about Foltz, then this dog is a keeper for sure.
During the last weekend of October, Dharma Dog Training met with Foltz and others at HHP to help give foster parents and their dogs new tools to communicate with.
"Most rescue groups function with foster homes," says Kelley McAtee, owner and head trainer at Dharma. "That means we are must empower them with tools to be able to deal with dogs that are working through mental and emotional stress. That stress comes out in behavior issues and these dogs' lives depend on being able to communicate."
Foltz and his foster mom have now received tools to be able to adoption events and communicate with others around Foltz. He periodically gets really nervous with dogs outside of the pack he lives with, but now less often. "We truly believe that by working together we can save more dogs," McAtee says of working with rescues like HHP. "And if we, as a society, start viewing behavioral issues as if they are as important as medical issues, we can make an even bigger difference.:
McAtee says Foltz did "amazing" and looks forward to his next session. Dharma is pledging to provide a New Adopter Training session for the person/people who adopt him.
Dharma Dog Training provides these classes in order to start dogs and people off on the right foot and avoid surrender, which is a big problem.
If you'd like to get in touch with HHP, its adoption information can be found on www.handsheartspaws.org. Also, you can find Foltz's Petfinder page here.