A big problem for Omaha-area rescues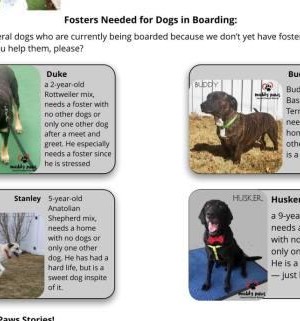 In the last few hours, we've noticed the same kind of Facebook post from three different rescues asking for the same thing. Muddy Paws Second Chance Rescue, the Midwest Dog Rescue Network, and Golden Retriever Rescue in Nebraska are all asking for volunteers who can take displaced dogs into their homes while they await adoption.
Midwest Dog Rescue Network needs help with, among others, a six-year-old Australian Shepherd. Click here to see the pup and get info on how you can help. Golden Retriever Rescue in Nebraska (keep in mind the Golden is always among the most popular breed in America) simply stated recently: "GRRIN NEEDS FOSTER FAMILIES." Click here to help GRRIN today.  Muddy Paws posted a photo of four dogs that are currently being boarded rather than being in a foster home. Click here to see the pups and think about all the expenses you'll be freeing the rescue from as their dogs won't need to be kenneled!
There are serious problems that cause rescues here and everywhere to be overloaded a lot of the time.  We're not anywhere close to being able to say there are too many rescues and not enough animals. You can't solve the big issues by volunteering to foster one dog, but you can be part of a more immediate solution- giving a dog a safe home (for free!) while it waits for its forever place. Also remember that by fostering a dog, the rescue you're volunteering for can often make room for another displaced animal to come into rescue.
Shelters and almost every other rescue around are also in need almost all the time, so pick your favorite humane organization and give it a call to help! If you don't have one in mind, there are three options above that would enjoy your help today.