A Wonderful Endeavor- "Dogs on Deployment"
The top-of-the-fold copy on the Dogs on Deployment Web site says it best: Military servicemen and women face many challenges during their careers. One of them shouldn't be worrying about their animal's well being while they are apart. And aren't we all looking for ways to support our troops? What better way, if you are an animal lover and proud American, to help by boarding a military person's dog while they are deployed somewhere away from home?
Dogs on Deployment's home page provides three classifications for types of people who are involved in their organization. First, there's a place for active duty members of the Armed Forces to find help. Secondly, there's a place for volunteers who want to board dogs for service people. Thirdly, there's an opportunity given to businesses that want to help the effort. The D.O.D. Web site is also getting an overhaul and there are opportunities to donate or become sponsors. Check out all of that information right there on their homepage.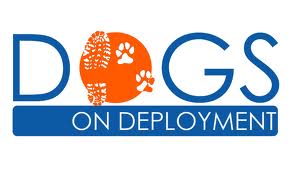 Here's the non-profit's official mission statement: Our mission is to give military member's peace of mind concerning their pets when it's time to deploy by providing them with the ability to find people willing to help them.
The organization also has a handful of very well-defined goals:
DoD aims at having DoD Boarders located near all major military bases in the United States. A military member should be able to find a DoD Boarder located within 50 miles, no matter what base they are stationed at or deploying from.
DoD will become a first resource for military members to turn to when they need long term boarding for their pets. This includes, but is not limited to, being recommended by military assistance organizations, base family support centers and animal shelters impacted by relinquished pets.
DoD plans to increase the rights and education that pet owners have while serving active duty in the military. This includes bringing light to the problem of pet relinquishment by military members to higher levels of the chain of command, and petitioning for annual, military-wide pet responsibility training. We want pets to be considered part of the family by military regulations, not disposable objects.
DoD will help promote the military-pet community by providing a database of partnered pet related businesses which support their troops through discount and incentive programs. Users will be able to search for local businesses which will provide them with afforable options for pet care.
DoD wants to help qualified military members with the cost of pet care before and during deployments in order to promote responsible pet-ownership, providing financial assistance to get military pets spayed/neutered, vaccinated, microchipped and help with cost of pet care. This is known as our Pet Chit Program.
As far as Omahan's go, we have a great opportunity given the aforementioned goal of having resources within 50 miles of every major base in the country. With Offutt just down Hwy. 75 in Bellevue, Omaha is definitely within the said radius. If you'd like to become a border or volunteer, or find out about how the Offutt program will work, click here.
What a great idea and great organization. We encourage anyone who is interested in helping in any number of ways to peruse the Web site, read the testimonials, watch the videos and lend a hand. This is just another way we can help Omaha's pet community grow stronger!
Image credit: Dogs on Deployment Web site dogsondeployment.org